Teen horror comedy Detention starring Josh Hutcherson comes to DVD this August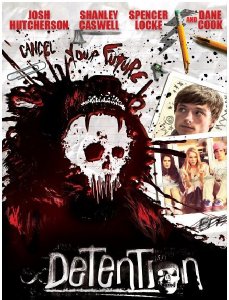 The horror... THE HORROR!!! Excuse us as we get carried away with poor wordplay,
Sony Pictures Home Entertainment
have announced the release of teen horror comedy
Detention
for 27th August.
In it a group of high school seniors must prevent themselves from becoming the victims of a slasher-movie villain terrorizing their small town of Grizzly Lake. Along the way, they encounter body-switching, time-travel, and even a human-insect hybrid. Interesting!
Directed by Joseph Kahn and written by Kahn and Mark Palermo, this stars Josh Hutcherson of
The Hunger Games
fame, and Dane Cook from
Good Luck Chuck
. It also features Shanley Caswell and Spencer Locke. With a runtime of 89 minutes, a rating of 15, and options of both DVD and download formats, the recommended retail price will be £12.99.
Extras will include a feature length documentary entitled
Cheat Mode: The Unbelievably Mind Melting Making of Detention
, which has insights from cast and crew on the making of the film, as well as trivia.
Synopsis is as follows...
This hipster, teen horror-comedy, has the students of Grizzly Lake trying to survive their final year of high school. Standing in their way is Cinderhella, a slasher-movie killer who has seemingly come to life and is preying on the school's student body. As the clock ticks and the bodies pile up, the likely suspects are embroiled in a race against time to stop Cinderhella and ultimately save the world … if only they can get out of detention.