Ismael Ferroukhi's French thriller Free Men comes to DVD and Blu-ray in September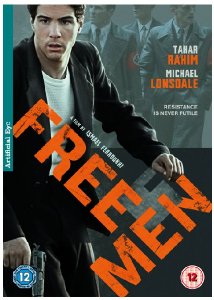 Who doesn't like a French thriller? And on 24th September we have a release of one from
Artificial Eye
on both DVD and Blu-ray. Directed by Ismael Ferroukhi,
Free Men
stars Tahar Rahim and the legendary Michael Lonsdale.
With a running time of 99 minutes and a certificate rating of 12, the recommended retail price will be £15.99 for the standard definition release and £19.99 for the high-def version. Alas no word on extras so expect none.
Synopsis is as follows...
1942, in German-occupied Paris. Younes, a young unemployed Algerian, earns his living as a black marketeer. Arrested by the French police but given a chance to avoid jail, Younes agrees to spy on the Paris Mosque. The police suspects the Mosque authorities, among which its rector Ben Ghabrit, of aiding Muslim Resistance agents, as well as helping North African Jews, by giving them false certificates.
At the Mosque, Younes meets the Algerian singer Salim Halali, and is moved by Salim's beautiful voice and strong personality. A deep friendship develops, and soon after Younes discovers that Salim is Jewish. In spite of the risks it entails, Younes stops collaborating with the police, and gradually develops from being a politically ignorant immigrant worker into a fully-fledged freedom fighter.