Lesbian Vampire Warriors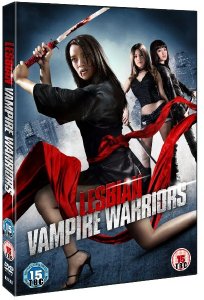 When you have a vampire problem, there aren't that many minority groups you can call on for help, but apparently there is definitely one. Out on 25th June on DVD is the Dennis Law movie
Lesbian Vampire Warriors
, starring Jiang Lu-Xia, Chrissie Chau Sau-Na, Yuen Wah, Chin Siu-Ho, Rock Ji, DaDa Lo Chung-Chi and A. Lin.
This Chinese thriller runs for 96 minutes and will carry a recommended retail price of £12.99, the release is courtesy of Arrow Films. Alas no news of extras to bring you.
Synopsis follows...
In this twilight world the humans live alongside the blood-sucking predators as long as they stick to their diet of small animals. Ar (Jiang Luxia) - a non-vampire and her vampire-girlfriend Max (Chrissie Chau Sau-Na) cohabit happily despite their 'cultural differences'.
But, for Max and her vampire siblings, life is otherwise very dull. They experience no pain, cold, discomfort, touch, or warmth and without the thrill of the kill there is nothing to do except hang upside down in bed all day, think about sex, and loiter around street corners with their vamp-teen friends. However their non-lives are about to get a lot more exciting and very dangerous indeed.
Ar is a vigilante and hunts down the bad-vampires, the ones that feast on human blood so they can be destroyed for the good of the community. Luckily she has a sixth sense - the power to 'sniff out' vampires before they sense her. She is also searching for her lost sister Sue who may, or may not, have succumbed to a vampire love bite.
Ar discovers that a vampire lord is on the lose putting her and her vampire friends in danger and vows to track him down.
Mung (Yuen Wah) the vampire Lord attacks and sucks dry other weaker (non-human-eating) vampires so he can become stronger and indestructible. We soon discover that Mung has also enslaved Sue to help him trap his victims.
Mung needs Ar out of the way and uses Sue to lure his nemesis into a trap for the ultimate ass-kicking, fang-tastic showdown. Will Ar manage to save her sister, save herself and live happily every after with girlfriend Max, there is only one-way to find out.