The Tunnel sneaks onto DVD this July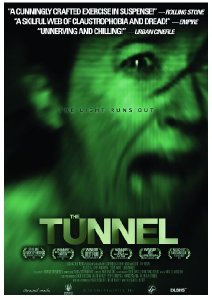 Because you can never have enough found-footage thrills,
Arrow Films Distribution
have announced the release of 135k Projects film
The Tunnel
for 2nd July.
Starring BelDeliá, Andy Rodoreda, Steve Davis, and Luke Arnold, this is a crowd-funded Australian thriller directed by Carlo Ledesma, and produced by Enzo Tedeschi and Julian Harvey. The running time is 90 minutes, and the recommended retail price will be £12.99.
Synopsis follows...
When heading into a tunnel you know you will see daylight on the other side, but the government abandoned train tunnels under Sydney are a dark, twisted maze, where the shadows move and something is watching.
In 2007 the New South Wales government suddenly and inexplicably abandoned a project to recycle water found in the disused train tunnels beneath Sydney, despite being in the midst of serious drought.
In 2008 investigative journalist Natasha (Bel Deliá) is convinced of a government cover-up and isdetermined to prove her theory right by any means possible. Natasha and herteam Peter Ferguson (Andy Rodoreda), Steve Miller (Steve Davies) and Jim Williams (Luke Arnaldo) descend into the subterranean labyrinth of the city - but as they hunt for their story, a much bigger story is hunting them.
Watch their harrowing ordeal, with unprecedented access to the recently declassified tapes shot inthe claustrophobic subway tunnels, as well as a series of candid interviews with the survivors and CCTV. Step by step we come face to face with the terrifying truth.
The never before seen footage takes us deep inside the tunnels, bringing the darkness to life and capturing the raw fear that threatens to tear the crew apart, leaving each one of them fighting for their lives against an unknown predator.