Carol Reed's classic Odd Man Out comes to Blu-ray in June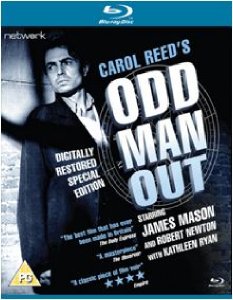 One of the best things about a new format, is old classic material getting a new and shiny outing, and
Network Video
are doing just that with the 18th June release of
Odd Man Out
.
Carrying a recommended retail price of £19.99, this Carol Reed directed political drama has been taken from a digitally-restored HD print, and features cinematographer from Robert Krasker in all its glory.
Special features will include a commemorative booklet, including original theatrical press-book, the
Home James
documentary from 1972, where Mason returns to his native Yorkshire, an ITV Interview from 1972 with Mason, stills gallery and copy of the script in PDF format.
Synopsis follows...
Mason stars as Johnny McQueen, an idealistic leader of an illegal organisation in Northern Ireland, imprisoned for gun-running. Escaping, he plans an armed raid to financially support his plans, but it goes wrong; he is shot and badly wounded. Stumbling through the back-alleys of Belfast, he must find a place to hide out, but discovers he is not just wanted by the police, but by the people he thought of as his friends.
This tale of terrorists on the run also features Lukey, the artist who wants to capture the moment of death in McQueen's eyes, and a woman who loves McQueen more than life itself. It is a story that shows the impact of the Irish Question on ordinary people, and not just those involved directly with the struggle.