Football thriller Payback Season comes to DVD and Blu-ray this June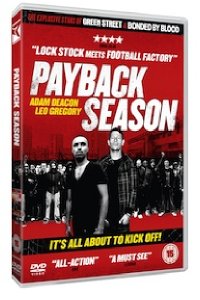 As if we haven't had enough football thrillers this season,
Revolver Entertainment
are all set to release
Payback Season
on DVD and Blu-ray this coming 4th June.
Directed by Danny Donnelly and with a guest appearance from the legendary Sir Geoff Hurst, it stars Adam Deacon, Leo Gregory, David Ajaala and Nichola Burley. You might know the latter from
Donkey Punch
and
Street Dance
.
With a recommended retail price of £15.99 for the DVD, and £17.99 for the Blu-ray, this comes with a 15 certificate so expect at least some naughty language and a bit of violence. No extras listed at the time of writing.
Synopsis is as follows...
With his smart car and celebrity status, Jerome appears to have it all. A young man from the tough streets of London, he has beaten the odds to make a success of his life as a professional footballer, and dodge the dangers of the council estate where he was raised.
Close encounters with old friend Baron (a stand out performance from David Ajala) and his gang from the estate where his mother and younger brother still live, however, threaten not only Jerome's comfortable lifestyle - but also the safety of his family and his own life.
Friend, trainer and all round decent bloke Andy (Leo Gregory) is on hand to try and put Jerome - and his embittered younger brother who has become embroiled with Baron - back on track.
Meanwhile, journalist and old flame Lisa (Nichola Burley) watches on in horror as the profile piece she is researching on Jerome escaping the challenges of his dark background seems to become a self-fulfilling prophecy.
Set against the backdrop of the demanding life of a professional Club player, and answering to his manager Adam (Sir Geoff Hurst), Adam tries desperately to juggle his new commitments with old loyalties, with potentially devastating consequences.