E4 comedy Cardinal Burns comes to DVD and Blu-ray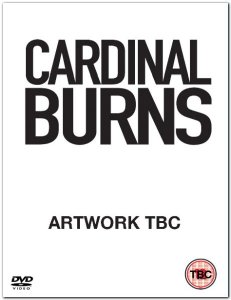 We are excited! Not just because
BBC Worldwide
have announced the release of
Left Bank Pictures'
E4 comedy
Cardinal Burns
, but because it comes with extras! Yes this is the first release we've told you about in days and days that isn't bare bones, the industry still cares!
Okay, we'll stop with the exclamation marks now. Anyway, out on 18th June in both DVD and Blu-ray formats, it features six half hour episodes written and performed by Seb Cardinal and Dustin Demri-Burns. With a rather high recommended retail price of £20.42, extras will include commentary tracks, behind-the-scenes featurettes and interviews.
Cat number spotters can jot down 2EDVD0717 with their little pencils in the nerdy notebook. The rest can read on and enjoy the synopsis which follows...
Packed with well-drawn comic creations- from PHIL AND TERRY two old guys spinning spellbinding stories on the twilight shift in a tobacco stained cab office, to SWITCH an urban street poet with a privileged upbringing; FACE TO FACE WITH BANKSY, a faux documentary about the hum drum life of the infamous street artist, YOUNG DREAMS a parody of scripted reality formats as three girls start a fashion internship in London and OFFICE FLIRT a bromance following Charlie and New Guy in the rules of office flirting.
Cardinal Burns is a sketch show, but not as you know it. With the highest production values, a uniquely cinematic execution, and packed with original characters wrapped up in a unique mix of sketch and narrative. Cardinal Burns have created a format of their own.
Well-known on the stand up comedy circuit, Cardinal Burns have performed to sell-out audiences across the country, from their critically acclaimed debut at the 2009 Edinburgh Fringe to a successful run at London's Soho Theatre in 2010. Their sketch show for E4 is their first solo TV project.