Anime Review Roundup
Get Set For The Expo
It's that time of year again. Next weekend sees the annual May MCM Expo in London, and anime and genre fans will be congregating once more to partake of bargains, meet the stars, learn of the latest news, and get free hugs. So make your way to the Excel Centre in London. But I'll still be here, bleary-eyed looking over tweets trying to pick out the newsworthy items next week.
One other quick bit of news is that MVM are finally on Twitter, so go to
https://twitter.com/#!/MVM_UK
to find out the latest skinny.
And just as I get ready to post this, an eagle-eyed virtual window-shopper discovers a steelbook
Blu-ray of Ninja Scroll
. And Manga Entertainment issue a
Twitter admission
, that one of their Expo announcements has been spoiled, and that a hi-def Ninja Scroll is indeed due on October 15th.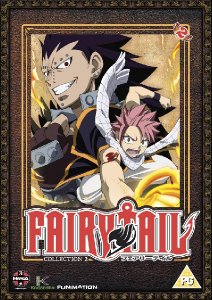 Finally, some serious anime reviewage has been taking place. We begin with
Fairy Tail: Part 2
. This action adventure series made quite an impact on its release in the UK a couple of months ago, and the second instalment of episodes simply builds on its comedy action pedigree. Magic Guilds do battle in the second set of episodes, but not before we learn of the conclusion of the Cursed Island adventure, a magic spell causes bodyswap mayhem, and we learn that flying cats are hatched from eggs. Even better news, Funimation were podcasting last week, pleasantly surprised at Fairy Tail's success in the US, which makes the rest of the series being licensed a little more likely.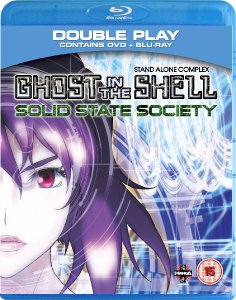 Do I really need to say more about Ghost in the Shell at this point? Apparently so, as
Ghost in the Shell: Stand Alone Complex: Solid State Society
makes its UK Blu-ray debut. It's the franchise that refuses to die, and should the unexpected happen and it actually ever falters, I'll be the first one there with a defibrillator. But judging by this high definition release of the Kenji Kamiyama helmed feature film spin off from the television series, that is a very distant prospect. The cyberpunk story may be familiar, the machinations and mystery in a technocratic future just as appealing now as they were when the film was first released, but seeing it all in HD, with lossless sound... Is it worth the upgrade?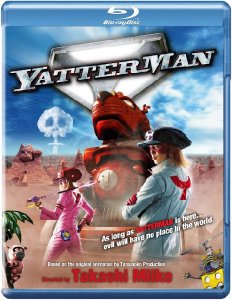 Finally it was the turn for some live action, but fans of vintage anime will be familiar with the
Yatterman
anime shows. Two young heroes and their giant robot dog battle the Doronbo Gang and their hastily constructed mecha, to protect the world from the onslaught of evil. It's a classic anime series, but it took Takashi Miike to bring it to live action. It took Eureka Entertainment to bring the Blu-ray and DVD to the UK. I reviewed the Blu-ray, for which my retinas have yet to forgive me. See how this modern live-action take on an old-fashioned anime stands up.
Manga Entertainment release Fairy Tail: Part 2 on DVD, and as Ghost in the Shell: Stand Alone Complex: Solid State Society as part of a Blu-ray DVD combo, while Eureka Entertainment release Yatterman separately on Blu-ray and DVD, and they all come out today.