Cuba's first feature length zombie movie Juan of the Dead comes to DVD in June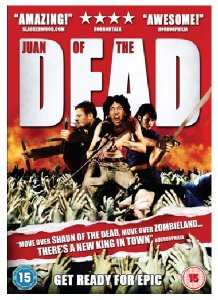 "Hello, Juan of the Dead…We kill your loved ones…!"
So we've had many years of series zombie horror movies, with the odd comic affair thrown into the works, then comedy got light in tone with
Shaun of the Dead
, and seriously light hearted with
Zombieland
, and then... no we don't quite know where we are going with this either.
Well, out on 4th June is Cuba's first contribution to the genre, with
Juan of the Dead
, written and directed by Alejandro Brugués, who you may or may not remember for his work
Personal Belongings
.
This DVD will carry a 15 certificate, retail for £15.99, and comes to us courtesy of our old faves
Metrodome Distribution
. The blurb describes this as scattered with allusions to traumatic moments in Cuba's recent history, a zombie film with real satirical bite.
Alas no list of extras, so don't expect any and you won't be disappointed.
Synopsis follows...
This tells the blood-drenched tale of a slacker who decides to save Cuba from an invasion of cannibalistic zombies. As the zombies turn Havana into a gory circus of flying limbs and severed heads, the nightly news anchors continue to calmly assert the government line, that the attacks are not the work of the undead but dissidents in the pay of the United States.