Ealing comedy classic Passport to Pimlico gets remastered for Blu-ray, DVD and cinema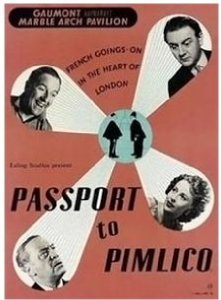 Another classic piece of British cinema is getting a remastering, short cinema run and re-release on DVD, to coincide with the Blu-ray.
Out on 4th June in the theatres is Ealing comedy
Passport to Pimlico
, from
StudioCanal
, as part of their Made In Britain season.
Every Tuesday from 5th June to 3rd July inclusive, they will be showing classic movies all around the country. But we digress...
The new release will include an interview with Mark Duguid, locations featurette with Richard Dacre, stills gallery, restoration comparison and trailer.
Synopsis follows...
A whimsical tale of a British evasion of authoritarianism, written by celebrated Ealing regular and Academy Award Winner T.E.B. Clarke (The Lavender Hill Mob, Barnacle Bill) and produced by the revered Michael Balcon, PASSPORT TO PIMLICO is a daring and charming, timeless topical classic from the Golden Age of the Ealing Comedies.
When an unexploded WWII bomb is accidentally detonated in Pimlico, Arthur Pemberton (Stanley Holloway - MY FAIR LADY) and daughter Shirley (Barbara Murray - SOME WILL, SOME WON'T) investigate the crater made by the explosion and discover a treasure trove including documents proving that the region is in fact part of Burgundy, France and therefore foreign territory.
The residents are quick to act and take the opportunity to escape from post World War II austerity, tear up their ration books and break from English rule. However complications and comedic chaos ensues as the British Government attempt to regain control as a beleaguered Burgandy fight back.