Family comedy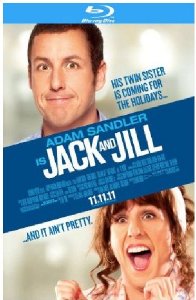 Not having enjoyed this family comedy in the cinema, we can only make assumptions until a review copy flies our way. So anyway,
Sony Pictures Home Entertainment
have annoounced they are releasing Adam Sandler vehicle
Jack & Jill
for release on Blu-ray, DVD and download on 2nd July.
With recommended retail pricing at £22.99 for the posher HD disc, £17.99 for the DeeVeeDee, extras will include deleted scenes, a blooper reel, two featurettes on the DVD and four on the Blu-ray.
Now, we tend to worry when a press release lists only two members of the cast, the other being Katie Holmes, and then a whopping eight producers. Someone needs to tell the studios that viewers don't care who counted the coffee cups to make sure it came in under budget.
Synopsis is as follows:
Jack Sadelstein (Adam Sandler), a successful advertising executive in Los Angeles with a beautiful wife (Katie Holmes) and kids, dreads one event each year: the holiday visit of his identical twin sister Jill (also Adam Sandler). Jill's neediness and passive-aggressiveness drive Jack crazy and turn his normally tranquil life upside down. Things spin even more out of control for Jack when Jill decides to extend her visit - and he starts panicking that she'll never leave!