B-movie fans rejoice! Mystery Science Theater 3000: The Movie comes to Blu-ray and DVD in June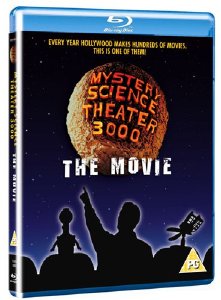 Some of us here are big fans of B-movie fodder, and even bigger fans of Mike Nelson and company taking the mickey out of them. So we cheer at the news that 1996 feature
Mystery Science Theater 3000 The Movie
is finally getting a release on Blu-ray and DVD.
If you are unfamiliar with the show, which ran for ten seasons, it generally involves a mad genius surrounded by idiots, torturing a poor hapless space janitor and his robot crew by forcing them to watch old really terrible b-movies.
They sit in silhouette on screen taking the mickey out of the action, much like many of us do at home. It is a unique work of genius, and the movie isn't bad either.
Mediumrare Entertainment are releasing the title on 11th June 2012, and bonus features will include a trailer, making-of featurette and stills gallery.
Synopsis and further detail follows...
Mad scientist, Dr Clayton Forrester has concocted a diabolical scheme for world domination, to subject the human race to the worst movies ever made. This time it's the classic 1950's B-Movie This Island Earth. An innocent man Mike Nelson stranded in outer space becomes the test subject along with his two companions, sarcastic robots Tom Servo and Crow T. Robot. But Dr Forrester gets more than he bargained for as his test subject possesses mankind's ultimate defence: a sense of humour and as the film plays they mercilessly heckle, providing a hilarious running commentary and a way to foil his evil plan.
Mystery Science Theater 3000: The Movie delivers laughs that are out of this world.
Cert:
PG
Running time:
74 mins approx.

Language:
English
BLU-RAY RRP:
£19.99

Cat. No.:
FHED2936
DVD RRP:
£15.99

Cat.No.:
FHED2934