David Cronenberg directs A Dangerous Method out on DVD and Blu-ray in June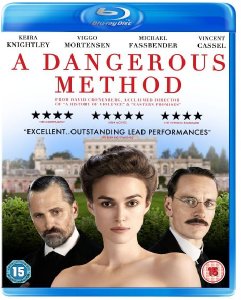 We do love a David Cronenberg movie, few and far between as they are, always different from the rest. His first offering for four years arrives on DVD and Blu-ray this coming 25th June.
A Dangerous Method
is based on stage play
The Talking Cure
, by Christopher Hampton, and adapted by the same guy! Always a good thing.
The drama stars current popular actor Michael Fassbender, along with one of our favourite Lord of the Rings good guys Viggo Mortensen.
Joining them is the always lovely Keira Knightley, and Vincent Cassel who some of you may recognise from Black Swan, but we best remember from Irreversible.
Synopsis as follows:
On the eve of World War I, Zurich and Vienna are the setting for a dark tale of sexual and intellectual discovery. Drawn from true-life events,

A DANGEROUS METHOD

takes a glimpse into the turbulent relationships between fledgling psychiatrist Carl Jung, his mentor Sigmund Freud and Sabina Spielrein, the troubled but beautiful young woman who comes between them. Into the mix comes Otto Gross, a debauched patient who is determined to push the boundaries.
In this exploration of sensuality, ambition and deceit set the scene for the pivotal moment when Jung, Freud and Sabina come together and split apart, forever changing the face of modern thought.
And for those who want to know prices, features and suchlike...
A DANGEROUS METHOD Blu-ray & DVD Details:
RRP BD/DVD: £24.99 / £19.99
Certificate 15
Audio Feature: Dolby Digital 5.1 Surround , Audio Description: Dolby Digital 2.0 Stereo
Aspect Ratio Anamorphic 1.85:1
Special Features
Audio Commentary By Director David Cronenberg
The Making Of A Dangerous Method