Takashi Miike's Yatterman is to be released in the UK on DVD & Blu-ray this May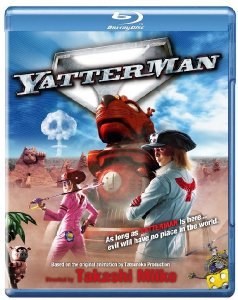 Classic seventies anime series
Yatterman
flies to the silver screen in a brilliant crime-fighting explosion of candy-coloured camp, over-the-top adventure, and pure popcorn entertainment. Directed by legendary cult director
Takashi Miike
(
13 Assassins, Ichi The Killer, Audition
) and featuring a brand new plot and re-imaged characters, this live action debut of
Yatterman
will re-define the robot action adventure genre.
Gan, the only son of a toy shop owner, and his girlfriend Ai are just normal teens who like to tinker away with robotic inventions - that is, when they're not out keeping the world safe from evil! Together with their giant robot dog Yatterwoof, and their small incompetent robot Toybotty, Gan & Ai transform into crime-fighting duo Yatterman to fight for world peace. Waging battle against perennial nemesis, the Doronbo gang (formed by sexy villainess Doronjo and her lackeys Boyacky, and Tonzra), the trio will stop at nothing to recover the powerful wish-granting Skull Stone, but they'll have to get past Yatterman first!
Yatterman
is released in the UK on DVD & Blu-ray by Eureka Entertainment on 21 May 2012
SPECIAL FEATURES:
Japanese Teaser Trailer
Two Behind the Scenes Featurettes (Rehearsals & Filming and Set & Costume Design)
Cast & Crew Interviews (Takashi Miike, Shô Sakurai, Hiroshi Sasagawa)
Cannes Film Festival Promo
Stills Gallery
DETAILS:
Label:
Eureka Entertainment Ltd
DVD Cat. No:
EKA40345
DVD Barcode:
5060000403459
DVD RRP:
£16.34


Blu-ray Cat. No:
EKA70077
Blu-ray Barcode:
5060000700770
Blu-ray RRP:
£17.36


Release Date:
21 May 2012
Certificate:
15
Run Time:
119 min.
Format:
Colour
Genre:
Action/ Comedy
Director:
Takashi MIIKE
Year:
2009
Country:
Japan
Language:
Japanese
Subtitles:
English (Optional)