Miranda July's drama The Future comes to DVD in April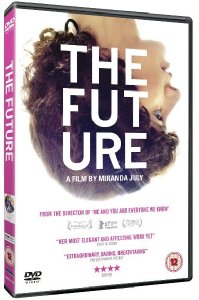 Revolver entertainment release Miranda July's '
The Future
' to DVD on 23rd April 2012. July (Jesus's Son, Me and You Everyone We Know), explores a lyrical examination of a couple's eccentric endeavors to evolve their lives, as they come to terms with the painful realization of time and reality.
Passionately aware of their mid-30's, Sophie (Miranda July) and Jason (Hamish Linklater), an outlandish couple living in Los Angeles stumble across a relationship crisis that forces them to come to terms with their life choices and the bleak future that lies ahead.
Both extremely education and canny, Sophie and Jason quit their unsatisfying jobs. When they adopt a stray sickly cat named Paw Paw, it becomes the beginning of their freedom that allows them to explore their dreams. Sophie immediately dives into creating a signature dance, whilst Jason searches artistically for a calling led by fate. Unaware of their journey ahead, the couple encounter someone who will change their lives more intensely than the company of their levered cat.
The Future is whimsical and profound coming-of-middle-age romantic comedy that deals with the complex issues of love, fear and time.
Release date: 23rd april
Running time: 91 mins
Certificate: 12A
Cat no: REVD2934
Price: 10.89