Rachel McAdams stars in romantic tale The Vow out June 25th on DVD and Blu-ray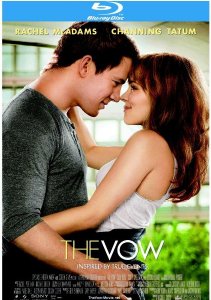 Can a Once in a Lifetime Love Find a Second Chance?
THE VOW
$170 Million Worldwide Box-Office Smash Starring Rachel McAdams & Channing Tatum
On DVD and Blu-ray™ June 25th
Bonus Features Include Director Commentary, a Gag Reel, Deleted Scene and Behind-the-Scenes Featurettes
London, UK. 10/04/2012
-
Rachel McAdams (
Midnight in Paris
,
The Notebook
) and Channing Tatum (
21 Jump Street
,
Dear John
) rediscover the meaning of true love in
THE VOW,
coming to DVD and Blu-ray on June 25th from Sony Pictures Home Entertainment.
Inspired by true events, the romantic tale follows Paige (McAdams) and Leo (Tatum) after they survive a car accident that leaves Paige without any memory of the man she fell in love with or their marriage. It's up to Leo to win back her heart…and her mind. The film also stars Sam Neill (TV's "Alcatraz,"
Jurassic Park
), two-time Academy Award® winner Jessica Lange (Best Supporting Actress,
Tootsie
, 1982; Best Actress,
Blue Sky
, 1994) and Scott Speedman (
Underworld
).
The DVD and Blu-ray bonus features include commentary with Director Michael Sucsy, a gag reel and deleted scene. Exclusive to the Blu-ray are three behind-the-scenes featurettes: "'Til Death Do They Part," a look at how the true-life story was made into the movie; "Profiles of Love: Paige and Leo," which discusses what drew McAdams and Tatum to the project, as well as their perspectives on their characters and the film's themes; and "Trying to Remember," explaining how trauma can affect memory.
Synopsis

:
Inspired by a true story,
THE VOW
tells the tale of a husband (Channing Tatum) who must regain the love of his wife (Rachel McAdams) after a coma steals the past five years of her memories.
THE VOW
, a Birnbaum/Barber production, presented by Screen Gems and Spyglass Entertainment, was directed by Michael Sucsy from a story by Stuart Sender, and a screenplay by Abby Kohn, Marc Silverstein and Jason Katims. It was produced by Roger Birnbaum, Gary Barber, Jonathan Glickman and Paul Taublieb, with J. Miles Dale, Austin Hearst and Susan Cooper serving as executive producers.
DVD/Blu-ray Bonus Features Include:
Commentary with Director Michael Sucsy
Deleted Scenes
Gag Reel
Blu-ray Exclusives Include:
Featurettes:
"'Til Death Do They Part"
"Profiles of Love: Paige and Leo"
"Trying To Remember"
The Vow
has a running time of 100 minutes on DVD and 104 minutes on Blu-ray and is rated 12 for an accident scene, sexual content, partial nudity and some language.
PRODUCT INFORMATION
TITLE
THE VOW
Release Date June 25, 2012
Format Blu-ray & DVD
RRP DVD: £17.99
Blu-ray: £22.99
Certificate 12
Genre Drama
Running Time DVD: 100mins, Blu-ray: 104mins