Anime Review Roundup
Another Week, Another Convention
In this case more than one convention, as it was a big week for fan gatherings in the United States at Sakuracon and Anime Boston, and it was also a big week for announcements from the various companies in the US. If you go to
Anime News Network
, you'll be able to read more about them in detail, but I'm just going to pick out the ones that intrigue me. Of course with the announcement of US releases for these titles, that's just the first step on a journey via Australia that may end up with UK releases in 12 to 18 months. So it's always worth keeping an eye on the US scene.
Discotek
Discotek are a comparative newcomer to the US anime scene, or rather it's only recently that they have become quite prominent. They've mostly been licensing classic anime shows of yesteryear, a move that has made many fans of vintage anime extremely excited. Last week they raised the greatest excitement of all by announcing the release of Captain Harlock.
Aniplex
Aniplex is a logo that you'll see on many anime discs, as they produce a lot of shows in Japan. Of late they have also been selling anime directly in the US, in premium priced, limited edition collections. It's a very Japanese model which has had surprising success in a budget conscious market. There are always fans that will pay extra for their favourite shows. Recently they've made things harder for UK fans by limiting the sale of their product to the US and Canada, no exports allowed, which makes things extra hard for those who want the Madoka Magica Blu-rays. Things are going to get even harder for UK fans, as Aniplex announced that they have finally licensed a show many fans desire on home video, Bakemonogatari, and on top of that, they are going to re-release Oreimo and Garden of Sinners, two limited edition shows which sold out completely the first time around.
Viz Media
We rarely hear much from Viz Media, although their European presence Kaze, have certainly made themselves heard in the UK. This week they confirmed that the dubbing on the latest 'Next Big Thing™' Tiger and Bunny is proceeding apace. But their most exciting news was announced just recently. They have the home video rights to the Berserk Golden Arc film trilogy, the remake and extension of the original Berserk series in movie form. The Kentaro Miura manga is still ongoing in Japan, and it's long been a lament of fans that the series ended when it had barely scratched the surface of the story. The Golden Arc starts all over again from the beginning, telling the blood and Guts tale with modern animation techniques. Viz Media aim to have the first movie, Berserk: The Golden Age Arc - The Egg of the King on sale for Autumn. It will be released to home video in Japan this May. Viz are also going to finally finish the Inuyasha series.
Sentai Filmworks
The company formerly known as ADV have been on a licensing frenzy this year, which makes their convention announcements seem a little thin. But they make up for this by announcing licenses for shows which haven't even aired yet in Japan, cutting the time down between Japanese and US releases considerably. They have the home video and streaming rights to No.6, Mysterious Girlfriend X, and Kids on the Slope, the latter announcement enough to make me whimper in delight. More on that later.
Funimation
Funimation as always have the bulk of the announcements, most of them for streaming, and including the latest incarnation of the gentleman thief Lupin III, in Lupin III ~Mine Fujiko to Iu Onna~, and the second season of Is This a Zombie? Of the Dead. Of course this being Funimation, we won't see them online in the UK. We should be able to import Mirai Nikki a.k.a. Future Diary, for which Funimation has announced home video rights. They also celebrated breaking the half million follower barrier on Facebook by announcing Sankarea and Shangri-La. It's about time for Shangri-La, a show that I have wanted ever since I saw it on Crunchyroll. Can you believe that the French have had it on home video for years already?
Crunchyroll's New Season Announcements
While we can only watch Funimation's streams if they deign to unlock them and put them on Youtube, that problem is fast becoming a thing of the past at
Crunchyoll
. They've been announcing their Spring season for the last week or so, and of the eighteen new shows licensed this season, only two, Upotte and Phi Brain have been denied us. And of the sixteen announced so far, some of them have already caught my eye as potential must own anime, let alone must watch. Fans will no doubt be intrigued by Leiji Matsumoto's Ozma, the Naruto spin-off Rock Lee & His Ninja Pals, if you like Kiddy Grade you may want to take in Sengoku Collection (Parallel World Samurai), some more mah-jong antics in the follow up to Saki, Saki Episode of Side A, but for me, four titles really have me salivating (pun intended), and I'm even considering watching them at an episode a week, instead of waiting until the season is complete in Japan so that I can marathon them.
Mysterious Girlfriend X
Quote:
Tsubaki Akira, a completely ordinary boy in high school, happens to lick the saliva of a mysterious girl, Urabe Mikoto, who just transferred into his class. The next day, Tsubaki is bed-ridden with a inexplicable fever that won't break. Five days later, Urabe makes an unexpected visit to Tsubaki's room and tells him to lick her saliva, after which his fever immediately breaks. Tsubaki asks Urabe what caused the fever, and she responds that he was lovesick. That marks the beginning of Tsubaki and Urabe's very ordinary yet somewhat odd romance!
Yup! Saliva addiction. Of all the fetishes I've seen in anime, this has to be the weirdest, but something about it tells me that it may just transcend its premise.
Space Brothers
Quote:
Once upon a time there were two brothers, Hibito and Mutta. Hibito, the littler brother, had been blessed with good luck since the day he was born. Mutta, the elder, had always had bad luck. One day, the two brothers saw a UFO. This experience made them decide to become astronauts. And while Hibito succeeded, Mutta went to work for a car company. Then he caused an incident and had to quit. And then just as Hibito is about to fly to the moon...

To follow his brother Hibito to the moon, Mutta will attempt to become an astronaut at the age of 32. Unaware of his own talent, elder brother Mutta chases his dreams to get back in front of his younger brother. Believing the worlds: 'The older brother should always be ahead of the younger one...'
Another serious look at space travel? There hasn't been an anime like this since Planetes. And that is one of my favourite shows. If they get this right, Space Brothers may just be another classic.
Tsuritama
Quote:
"The setting is Shonan, Enoshima. A town where the nostalgic and the fresh coexist. All his life, high school student Yuki has never had a friend of his own, because he's freakishly inept at communicating with others. Haru, a self-proclaimed alien from outer space, is trying to get him to go fishing. Natsuki is a local boy born and raised in Enoshima, who always seems to be annoyed by whatever's going on around him. Akira is a mysterious Indian boy who watches over them all, while maintaining a cautious distance. These four angst-filled teenagers meet and go fishing; and their tiny island takes center stage in an epic story... This is where it all starts - their SF (= Seishun Fishing) story!"
An introverted local boy, an alien, and an Indian, in a show about fishing? I am getting such a NieA_7 vibe from this that I simply have to watch it.
Sakamichi no Apollon a.k.a. Kids on the Slope
Quote:
The story of Kids on the Slope really starts rolling when the classical piano-trained Kaoru encounters Sentaro and falls head-over-heels in love with jazz. One thing to look out for is the performance scene of an excellent jazz piece in every episode. Up-and-coming young jazz musicians are employed here, with Takashi Matsunaga (Kaoru) on piano and Shun Ishiwaka (Sentaro) on drums. Yoko Kanno produces the sessions, which are then used directly for the anime.

Jazz standards like "Moanin'", "My Favorite Things", and "Someday My Prince Will Come" are played along with improvisational performances that reflect the mood of the characters at the time, whether they're in high spirits, or feel lonely, confused, angry, and so on. How these occasional performances and feelings are portrayed and directed is one more highlight of the show. Director Watanabe's "sessions" are a mix of images and music, so innovative and exciting visual expressions should be expected.
An anime show about jazz. I can see people switching off at the idea already. But look who's directing it. It's Shinichiro Watanabe. Look who's behind the show's music. Yoko Kanno. The last time that Shinichiro Watanabe and Yoko Kanno collaborated, the world got Cowboy Bebop. Is it any surprise that this is my most wanted show in recent years? Is it any surprise that Sentai Filmworks have licensed it for home video release sight unseen? This is proving to be the most exciting Spring for new anime in many a year.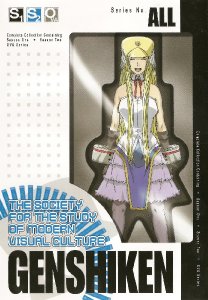 Just the one anime review last week, but it's a big one, and a series that has been on my wish list ever since I first heard of it. I took a look at
Genshiken: The Complete Collection
last week, and it was everything I hoped it would be. It's not your usual anime show. Instead it's a show about people who watch your usual anime shows. It's a show about fans, about otaku, indeed it's a show about people like you and me. It follows the lives of a gathering of students during their college years in a club called Genshiken. They are all different, come from different walks of life, but they have one thing in common, a passion for all things manga, anime, videogame and the associated culture. It's a wry, humorous and affectionate look at the various obsessions that people harbour, and it's also a very observant character study as well. Click the review to discover more.
I also took a look at the live action feature that serves as a prequel to the Crows manga.
Crows Zero
is a Takashi Miike feature film that follows the lives of a group of delinquents at Suzuran High School, as they battle among themselves to see who can unite the school under their own banner. It's never been done before, but it looks like the toughest kid in school, Tamao Serizawa can manage it. That's until the heir to a yakuza family, Genji Takaya transfers in during his final year. Now the fists are really about to fly. It's a typical manga and anime premise, but Miike invests it with a whole lot of energy and tongue in cheek humour.
Genshiken: The Complete Collection gathers the previous Series 1 and 2 releases, as well as the OVA and packages it in a budget box from Media Blasters. This was released back in 2011. Crows Zero is released by MVM today, and they have the sequel lined up in the next few months.