Hauppauge release MyTV2Go wireless portable freeview for smartphones and tablets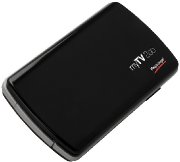 Put every Digital Freeview channel in your pocket with the latest concept
from Hauppauge: MyTV2Go
Make the most of the digital switchover by streaming your favourite programmes and sporting events without impacting your data plan
The Digital Switchover is happening now, the move from an Analogue to a Digital signal in the UK not only provides everyone with a greater choice of channels - such as ITV2, E4 and BBC Three - but also means that after the switchover, there will be more scope for new services such as wireless broadband, local TV and High Definition Television (HDTV) due to Digital TV using less broadcast space. Currently one in four people watch TV content on the move in 2011.
Recent research shows network traffic increasing seven-fold in the UK over the past five years to an average of 17GB of data per month, the equivalent of streaming 12 hours of BBC iPlayer.
It is predicted that by 2015 video traffic will more than quadruple, accounting for two-thirds of online traffic
Millions of us are watching on-demand TV anytime, anywhere. But, many forget that streaming content eats into their data plan with the potential of unleashing hidden fees for the pleasure. So how can you go about continuing to enjoy hit shows without having to pay anything extra?
With Hauppauge's wide range of cutting-edge TV solutions, such as the MyTV2Go mobile, you can watch all channels, including HD, if you are within a DVB-T (Freeview) reception area, on your tablet, pc or smartphone.
Over 1.4m mobile phone contract customers faced unexpectedly high bills in the past six months after exceeding data limits, according to Of-Com.
Those wanting to avoid these problems and be able to watch TV anytime, anywhere, are bound to flock online to try and watch their favourite TV shows. Hauppauge's MyTV2go features up to 3.5 hours battery life and comes equipped with the latest state-of-the-art chip technology to offer quick channel changes, crystal-clear images and high reception quality even in remote locations, without the need for further cables or adapters. In line with the digital switchover MyTV2Go-M is available for a limited time at a discounted price of £79.99 and the larger version for £99.99 at
Play.com
. Unlike most services that stream content and have pushed heavy data consumption into the mainstream, it runs subscription free with no data plan usage.
About MyTV2Go
MyTV2Go turns your mobile and tablet into an HDTV PVR. The downloadbale application lets you time shift and record TV shows and even stream Live-TV and TV recordings to your iPhone, iPad or other PCs and Macs. MyTv2Go is fully backward compatible to DVB-T and delivers outstanding reception for both standards.
About PCTV / Hauppauge
PCTV Systems (
www.pctvsystems.com
) is specialised in developing high value cutting-edge TV solutions for PCs and MAC computers. All PCTV products are distributed by Hauppauge.