Space Above and Beyond: Complete Series and Pilot is coming to DVD in April as a Collectors Edition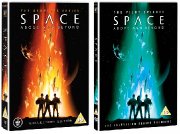 Mediumrare Entertainment is proud to announce


SPACE
ABOVE AND BEYOND
:
The Complete Series
-
Collectors Edition
&
SPACE ABOVE AND BEYOND
:
The Pilot Episode Edition
The Television Series Premiere
Both available to own on DVD for the first time
from 30th
 April 2012
Believe in the future as the future is upon us
High production values, strong acting, superb effects
SFX Magazine
COLLECTORS EDITION SYNOPSIS
In this cult fan favourite, it's the year 2063. After 150 years of deep space exploration, the people of Earth feel certain they are alone in the universe. Then world comes that two Earth outposts light- years away from home have been brutally attached by an advanced alien civilization. Now the new young recruits of the United States Marin Corps Space Aviator Calvary are heading for the front lines of space in the toughest battle the world has ever faced.
PILOT EDITION SYNOPSIS
When an earth output 16 light-years away is destroyed by an unknown Alien Force, a group of United States Marine Corps Space Aviators find themselves on the front lines of an intergalactic battle in an attempt to save their planet.
COLLECTORS
EDITION DVD CONTENTS
21 x hour episodes + 90 -minute pilot
6 disc amaray set
Brand New Making Of -documentary 40mins
Four Audio commentaries with Cast and Creators
VFX tests
Video Diary
Stills Gallery
Character Bios
PILOT EDITION DVD CONTENTS
DVD DETAILS

Cat no: FHED2931
Barcode 5030697021236
Running time: 900mins
Certificate: PG
Price: £39.99
Discs: 6
PILOT DVD DETAILS
Cat no: FHED2932
Barcode 5030697021236
Running time: 90mins
Certificate: PG
Price: £12.99
Discs: 1
Space-Above And Beyond
is distributed by Mediumrare Entertainment and is available from all good DVD retailers from 30th April 2012.