Ni! Ni! Ni! Monty Python and the Holy Grail comes to Blu-ray in March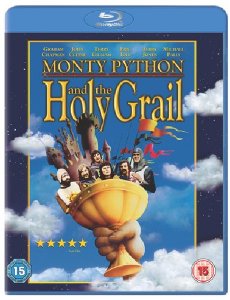 The Comedy Classic Debuts on Blu-ray™ March 26
MONTY PYTHON AND THE HOLY GRAIL
Loaded with Over 30 Minutes of
New Blu-ray Exclusive Special Features
London, UK. 14/02/2012
-
From the fertile minds of the 20th Century's most brilliant and outrageous comedy troupe comes their most highly regarded comedy classic -
Monty Python and the Holy Grail
- debuting on Blu-ray™ March 26 from Sony Pictures Home Entertainment.
Their second feature film stars Graham Chapman, John Cleese, Eric Idle, Terry Gilliam, Terry Jones, and Michael Palin as we follow King Arthur and his knights in their search for the Holy Grail. Encounter the Black Knight, the Killer Rabbit, The Knights Who Say 'Ni'! and the Black Beast of Aaaargh! The Blu-ray set is brimming with coconuts, shrubberies and swallows (African or European), OOPS, we mean loads of bonus materials, including over thirty minutes of new Blu-ray exclusive special features. This medieval madness will be available on Blu-ray for £19.99.
Blu-ray Exclusives:
· The Film re-mastered to high definition standards never before seen
· Outtakes & Extended Scenes with introduction by Terry Jones
· Lost Animations with introduction by Terry Gilliam
· Meanwhile, King Arthur & Sir Bedevere...
· Elephant & Castle
· Run Away!
· The Tale of Sir Robin
· The Tale of Sir Lancelot
· Henry 4th
· Cast Directory Photo Gallery
· Holy Grail Blu-ray Credits
Blu-ray Features:
· Scintillating commentaries by Terry Gilliam & Terry Jones and even more revealing commentaries by John Cleese, Eric Idle & Michael Palin
· Quest for the Holy Grail Locations with Michael Palin & Terry Jones
· Lego Knights: The Knights of the Round Table in Lego
· Special Japanese Version
· How To Use Your Coconuts (an educational film)
· BBC Film Night on location
· Three Songs to sing-along
Monty Python and the Holy Grail
has a running time of 92 minutesand is rated 15.
PRODUCT INFORMATION
TITLE
MONTY PYTHON AND THE HOLY GRAIL
Release Date March 26, 2012
Format Blu-ray
RRP £19.99
Certificate 15
Genre Comedy
Running Time Blu-ray: 92mins