Kristen Stewart stars in Welcome to the Rileys out on DVD this February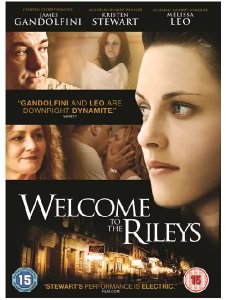 High Fliers are pleased to announce the DVD release of
Welcome to the Rileys
Release - 27th February
Starring
KRISTEN STEWART
(
Twilight
saga,
Into the Wild
)
JAMES GANDOLFINI
(
Sopranos
) and Oscar Winner
MELISSA LEO
(
The Fighter
,
Frozen
).
After the death of their daughter eight years ago, the lives of Doug (James Gandolfini) and Lois (Melissa Leo) Riley have been derailed. Lois refuses to leave the house and Doug strays to the waitress in his local all-night diner.
While at a business convention in New Orleans Doug unwillingly stumbles across Mallory (Kristen Stewart), a young stripper struggling to get through life. This stirs his paternal instincts once more as he tries to help build a good life for Mallory, while seeking to reclaim his marriage with Lois.
Directed by
Jake Scott
(son of Ridley),
Welcome to the Rileys
is a poignant story of lost souls searching for salvation.
Welcome to the Rileys
Release Date: 27th February
Running Time: 110mins
RRP: £15.99
Certificate: 15