Take Shelter to hit DVD and Blu-Ray on 19th March
"
Take Shelter"
the critcally acclaimed thriller,storms onto DVD and Blu-ray™ from 19thMarch 2012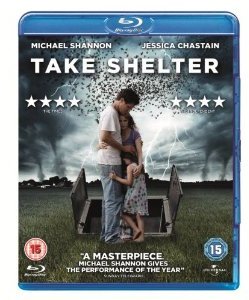 "Incredibly powerful'
    Film 2011
**** Time Out
**** Empire
**** Little White Lies
From writer and director Jeff Nichols comes this disturbing psychological thriller starring Academy Award® NomineesMichael Shannon and Jessica Chastain; one of Hollywood's most sought after actor of her generation are two of the most in demand actors recently seen in
Boardwalk Empire, The Debt, The Help
with forthcoming films including
Coriolanus, Return, Man of Steel and Wilde Salome.
Take Shelter tells the story of Curtis LaForche (
Michael Shannon
) who lives in a small Ohio town with his wife Samantha (
Jessica Chastain
) and six-year-old daughter Hannah who is deaf. Despite the constant struggle of navigating Hannah's health care and education, Samantha and Curtis are very much in love and their family is a happy one.
When Curtis begins having terrifying dreams about an encroaching, apocalyptic storm, he decides not to tell his wife, but instead channels his anxiety and money into the building of a storm shelter in their backyard. His uncharacteristic behaviour concerns and baffles Samantha, and provokes suspicion and intolerance amongst his colleagues, neighbours and friends, placing a strain on his marriage and creating tension within their community. As he tries desperately to stay sane, his obsessive actions become ever more erratic, placing his livelihood, his marriage and eventually his health in jeopardy
.
Fearful thathe is beginning to follow a past family member down the road to mental illness
,
Curtis struggles to keep his grasp on what is real and what is not.
Beautifully shot, and led by extraordinary, powerhouse performances from Michael Shannon (
Revolutionary Road, Boardwalk Empire
) and BAFTA Orange Rising Star Nominee, Jessica Chastain (
The Tree of Life, The Help
).
Take Shelter
is one of the most magnificent and mesmerising thrillers of recent years winning the Critics Week Grand Prize at Cannes and its gripping plotline will keep you guessing till the very end.
RELEASE DATE: 19thMarch 2012 CERTIFICATE: 15 (TBC)