Classic Aussie drama The Sullivans with Mel Gibson comes to DVD in March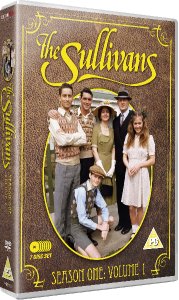 Mediumrare Entertainment is proud to announce
The Sullivans
Season One: Volume 1
Available to own on DVD from
12th March 2012
The Sullivans Season One Volume 1 revisits the first 50 episodes of this great Australian drama.
Starring Mel Gibson, Paul Cronin, Lorraine Bayly & Andrew McFarlane
The Sullivans was the first and longest running Australian daytime period drama to be broadcast on British Television. It was first broadcast in 1977 this classic series ran on ITV until 1988
SYNOPSIS
This epic story of a typical Melbourne family torn by terror and uncertainty of World War 11, is one of most highly awarded and widely seen cornerstones of Australian Television. The Sullivans is the story of a typical family in 1939 and follows the lives of the family members and friends during the years of the Second World War series spawned 1,114 episodes and eventually screened in more than 20 countries.
The Sullivans boasts many well known guest appearances by some of best known stars of today such as Mel Gibson, Sam Neil, Kylie & Danni Minogue to name a few.
DVD CONTENTS
50 Episodes
7 Disc Set
Episode Synopsis
Character Biographies
DVD DETAILS
Cat no: FHED 2916
Barcode 5030697020628
Running time: 1100mins
Certificate: PG
Price: £39.99
Discs: 7
The Sullivans
is distributed by Mediumrare Entertainment and is available from all good DVD retailers from 12th March 2012.