John Carpenter's cult stoner sci-fi classic Dark Star hits Blu-ray this month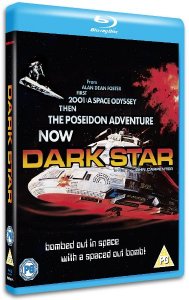 Fabulous Films is proud to announce
John Carpenter's
Cult Sci-Fi Stoner Classic
Dark Star
Blu-ray Edition
Bombed out in space with a spaced out bomb!!!!!!!
Available to own for the very first time on Blu-ray from
23rd January 2012
"A genuine classic"
Empire Magazine
*****
This all new Blu-ray edition has been sourced from an original 16 x 9 35mm theatrical print. The film was originally shot on 16mm, and then blown up to 35mm for theatrical distribution. The new master has been subject to a new grade and extensive manual frame by frame digital restoration.
This is the finest presentation of this Science Fiction Stoner Classic
SYNOPSIS
John Carpenter's pulp science fiction classic- this brilliantly clever and funny parody of Stanley Kubrick's 2001: A Space Odyssey, follows a warped intergalactic mission to blow up unstable planets. Four bored astronauts fill in time between missions catching up on their tans with the help of a sunlamp, playing with suspiciously plastic-looking alien mascot they are taking back to Earth and conversing with their female version of Hal. Things start to go horribly wrong as the spaceship computer misfires and a surfer - makes it back to Earth Surfing on an improvised board. Dark Star was intended to be a 68 minute student film. Hollywood Producer Jack Harris managed to convince the film-makers to shoot 15 minutes of extra footage and released the expanded version theatrically.
This Blu-ray edition contains the original theatrical version (83mins) and the Directors cut (68mins) release and is packed full of brand new extra features!
BLU-RAY CONTENTS
· An all new feature length documentary entitled Let There Be Light (116mins): The Odyssey of Dark Star. Exploring the controversial making of the John Carpenter and writer Dan O'Bannon (Alien) student film.
· Archival interviews with John Carpenter and many more
· Plus the final interview with Dan O'Bannon
· Interview with Brian Narelle, cinematographer Doug Knapp, art director Tommy Lee Wallace, visual effects artist Greg Jein, voice artist Cookie Knapp, film director Jack Harris, Dianne O'Bannon, USC Alumni / director Jeff Burr
· Original Directors Cut of the Feature & Theatrical Cut of the Feature
· Original Film Trailer
· Stills Gallery - Poster Gallery - Lobby Gallery
· New CGI Menus
· Cast & Crew Biographies
· English & Spanish Subtitles
· 5.1 Surround Sound
BLU-RAY SPECIFICATIONS
RRP Price: £19.99
Discs: 1
Barcode: 5030697020192
Catalogue No: FHEB2874
Certificate: PG
Running time 270mins
Dark Star

is distributed by Fabulous Films and is available from all good Blu-ray stockists from 23rd January 2012.