Gus Van Sant love story drama Restless comes to DVD in February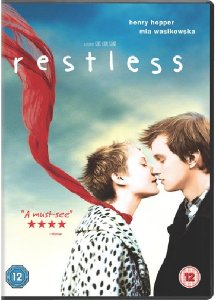 From Gus Van Sant, Oscar
®
-Nominated Director of

Milk

and

Good Will Hunting

,Comes the Acclaimed Love Story Starring Henry Hopper and Mia Wasikowska
RESTLESS
Available February 13 on DVD and Digital Download
Special Features Include Gus Van Sant's Silent Film Version of

Restless

and More!
London
, UK
. 20.12.11
-
From Gus Van Sant, Oscar®-nominated director of
Milk
(Nominated for Best Achievement in Directing, 2009) and
Good Will Hunting
(Nominated for Best Director, 1998), comes the acclaimed love story
RESTLESS
, available February 13 on DVD and Digital Download from Sony Pictures Home Entertainment.
Mia Wasikowska (
Jane Eyre
,
Alice in Wonderland
) and newcomer Henry Hopper shine in this humorous and touching tale of romance between a young man (Hopper) who has given up on life and a young girl (Wasikowska) on the verge of losing hers. Produced by the Oscar®-winning team of Brian Grazer and Ron Howard (Best Picture for
A Beautiful Mind
, 2009), actress Bryce Dallas Howard (
50/50
,
The Help
) and director Van Sant, and co-starring Jane Adams (TV's "Hung") and Ryo Kase (
Letters From Iwo Jima
),
RESTLESS
has charmed and moved audiences since its debut at the 2011 Cannes Film Festival. Now, film lovers can discover this "uncommonly touching romance" (Roger Ebert, Chicago Sun Times) on DVD featuring unique and provocative special features, including Gus Van Sant's Silent Film version of the movie.
Additional special features include deleted scenes, plus the behind-the-scenes featurettes "Being
Restless
," "Coming to Life: This is
Restless
," "Enoch & Annabel: One Love," "Enoch & Hiroshi: The Best of Friends," and "Gus Van Sant: Independent Voice."
Fans of romantic dramas like
An Education
and
Dear John
won't want to miss
RESTLESS
when it becomes available to own on DVDfor RRP £12.99.
Synopsis
Annabel Cotton (Wasikowska) is a beautiful and charming terminal cancer patient with a deep felt love of life and the natural world. Enoch Brae (Hopper) is a young man who has dropped out of the business of living, after an accident claimed the life of his parents. When these two outsiders chance to meet at a funeral, they find an unexpected common ground in their unique experiences of the world. For Enoch, it includes his best friend Hiroshi (Kase) who happens to be the ghost of a Kamikaze fighter pilot. For Annabel, it involves an admiration of Charles Darwin and an interest in how other creatures live. Upon learning of Annabel's imminent early passing, Enoch offers to help her face her last days with an irreverent abandon, tempting fate, tradition and even death itself.
As their unique love for each other grows, so do the realities of the world that they have felt closing in on them. Daring, childlike, and distinctly rare - these two bravely face what life has in store for them. Fighting pain, anger and loss with youth, playfulness and originality, these two misfits turn the tables on life and play by their own rules. Their journey begins to collide with the unstoppable march of time, as the natural cycle of life comes to claim Annabel.
RESTLESS
marks the screenwriting debut of Jason Lew. It was co-produced by Brett Cranford (
Manson Girls
,
Nightscape
). Executive producers are David Allen Cress (
Paranoid
Park
), Eric Black, Michael Sugar (
Rendition
), Sarah Bowen (
Take Me Home Tonight
) and Erica Huggins (
Flightplan
).
RESTLESS
has a run time of approximately 87 minutes and has been rated 12.
DVD Bonus Material
· Gus Van Sant's Silent Version of
Restless
· Deleted Scenes
· Five featurettes:
o Enoch & Annabel: One Love
o Enoch & Hiroshi: The Best of Friends
o Gus Van Sant: Independent Voice
o Being
Restless
o Coming to Life: This is
Restless
Pricing and bonus features on Digital editions of RESTLESS may vary by service provider.
Find Restless on Facebook at
http://www.facebook.com/RestlessUKIRE
PRODUCT INFORMATION
TITLE
RESTLESS
Release Date February 13, 2012
Format DVD
RRP DVD: £12.99
Certificate 12
Genre Drama
Running Time 87mins
"Academy Award" and "Oscar" are registered trademarks of the Academy of Motion Pictures Arts and Sciences.
ABOUT SONY PICTURES HOME ENTERTAINMENT
Sony Pictures Home Entertainment is a Sony Pictures Entertainment (SPE) company. Sony Pictures Entertainment (SPE) is a subsidiary of Sony Corporation of America, a subsidiary of Tokyo-based Sony Corporation. SPE's global operations encompass motion picture production, acquisition and distribution; television production, acquisition and distribution; home entertainment acquisition and distribution; worldwide television networks; digital content creation and distribution; operation of studio facilities; development of new entertainment products, services and technologies; and distribution of entertainment in more than 142 countries. Sony Pictures Entertainment can be found on the World Wide Web at
http://www.sonypictures.com
.