Kevin Smith horror Red State shoots to DVD and Blu-ray in January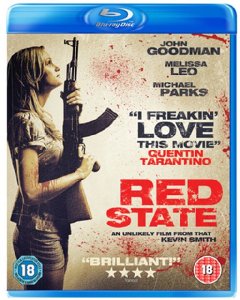 RED STATE
BIBLES & BULLETS COLLIDE
Releasing on DVD and Blu-ray™ by Entertainment One
on Monday 23rd January 2012
Red State
is an explosive, edge of your seat action-horror film, which will draw you down a harrowing path where 'sinners' face their judgment day at the hands of a dangerous religious sect. This gripping and exhilarating film from
Kevin Smith
is released on DVD and Blu-ray through
Entertainment One
on
Monday 23rd January 2012.
Red State
follows three horny friends who turn to the Internet to find a woman willing to fulfill their teenage urges. They think they have hit the jackpot when they find Sara (
Melissa Leo
) - an older lady who wants to have a foursome, however what should have been the greatest night of their life turns in to a nightmare when the boys are drugged and taken into captivity by the infamous Five Point Church - a local religious cult who operate their own brand of bloodyatonement.
The boys wake, bound and half-naked deep in bowels of the church and immediately witness the brutal execution of another 'sinner.' Knowing they are next in line, the boys beg for their lives, but Pastor Abin Cooper (
Michael Parks
) and his cruel and warped congregation have other plans and embark on their reign of terror.
Trapped and terrified the boys' only chance of survival is to fight their captors, but the evil evangelists are ready to send them straight to hell. Unbeknown to the boys, the apocalypse looms even closer as Federal Agent Joseph (
John Goodman
) and his trigger-happy team is right outside, poised and ready to blow the church off the face of the planet.
Red State
is a Tarantino-style assault that critics are calling "Brilliant!";
Kevin Smith's
(
Clerks, Dogma, Chasing Amy
) film is fast-paced, as the remorseless and evil fundamentalists show their barbaric and savage nature, sickeningly redefining the definition of disturbing.
Featuring a remarkable stand-out performance from
MICHAEL PARKS
(Kill Bill Vol 1&2)
as Pastor Abin Cooper,
Red State
also stars Academy Award® winner
MELISSA LEO
(The Fighter),
MICHAEL ANGARANO
(The Forbidden Kingdom),
KYLE GALLNER
(Jennifer's Body),
NICHOLAS BRAUN
(Chalet Girl)
and movie veteran
JOHN GOODMAN
as Agent Keenan.
The DVD and Blu-ray also includes over 2 hours of bonus features comprising of
the
making of Red State
,
deleted scenes
and
a conversation with Michael Parks
, allintroduced by Kevin Smith; plus the Blu-ray version has the very popular and exclusive
Red State of the Union" Smodcasts
.
Red State
is available to buy on DVD and Blu-ray from
Monday 23rd January 2012.
Join the official
Red State
social media platforms
https://twitter.com/RedStateUK
and
https://www.facebook.com/RedStateUK
Extras
DVD and Blu-ray features:
Making of Red State With Intro by Kevin Smith
The Sundance Speech with Intro By Kevin Smith
A Conversation with Michael Parks with Intro by Kevin Smith
Deleted Scenes with Intro By Kevin Smith
Trailers with Intro By Kevin Smith
Poster Gallery with Intro by Kevin Smith
DVD Details
Release date: 23rd January 2012
Running time: 85 mins approx
Format: DVD
Cert: 18
Cat No: EO51534
Barcode: 5030305515348
DVD RRP: £15.99
Blu-ray Details
Release date: 23rd January 2012 Running time: 85 mins approx
Format: Blu-ray
Cert: 18
Cat No: EO51535
Barcode: 5030305515355
Blu-ray RRP: £19.99