Ridley Scott fantasy Legend with Tom Cruise comes to Blu-ray this February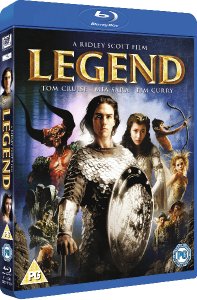 Twentieth Century Fox Home Entertainment is proud to announce
Legend
A world full of magic, wonder and desire
Directed by
Ridley Scott
Available to own for the
first time on Blu-ray from
the 6th February 2012
"No Good without Evil.
No Love without Hate.
No Innocence without Lust.
I am Darkness."
Starring Tom Cruise, Mia Sara & Tim Curry
'Beautifully shot and designed'
Time Out Magazine
"Tim Curry is great as Darkness, the big-horned bad guy"
SFX Magazine
Synopsis
Tom Cruise takes the starring role in this visually stunning fantasy adventure. Good and evil battle to the death amidst the spectacular surroundings of a timeless mythical forest where fairies, goblins, unicorns and mortals live side by side. The fantastic story sees Tom Cruise, a mystical forest dweller, chosen by fate to undertake a heroic quest to save a beautiful princess, Mia Sara, and defeat the demonic Lord of Darkness, Tim Curry. If he should fail, the world will be plunged into a never-ending ice age. Co-starring Billy Barty and Alice Playten and directed by Ridley Scott, famed for his remarkable settings and unparalleled imagery, this incredibly realized fable is the stuff movie legends are made of.
Director Ridley Scott's classic fantasy Legend looks and sounds better than ever on Blu-ray available from 6th February 2012.
Blu-ray Contents
European Theatrical Cut
Ridley Scott's Director's Cut
Original Theatrical Trailer
Blu-ray Specifications
RRP Price: £15.99
Certificate: PG
Running time: 89mins
Legend
is distributed by Twentieth Century Fox Home Entertainment and is available from all good Blu-ray stockists from 6th February 2012.