US Comedian Margaret Cho's 'Cho Dependent' on DVD
The new concert film from stand-up comedy's controversial diva!
Named 'one of the funniest comedians in America' (New York Times) and 'an impressive radical voice' (London Evening Standard), stand-up's controversial diva Margaret Cho brings her newest concert film 
Cho Dependent 
to DVD in the UK on the 9th of January. Known for her frank brand of humour, Cho delivers riotous yet thought-provoking material.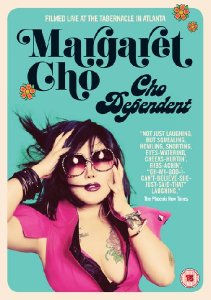 Margaret Cho's sixth stand-up concert film
, Cho Dependent
, finds Cho in her usual top form, riffing on smart topics that actually matter. Filmed live at the historic Tabernacle in Atlanta, GA (where the comedian also lives part time while filming Drop Dead Diva), Cho Dependent shares a name with and includes performances from Cho's Grammy nominated album of comedy songs.
With fresh family stories about her mother and her grandparents, Cho also takes aim at the Palins, her stint on Dancing With the Stars, cruising in the south, smoking pot and living in a world with 'sexting.' Honest, passionate and hilarious, Cho Dependent is simply Margaret Cho at her very best.Cho has gained celebrity status in the U.S. over the course of her career, starring in her own television programme on VH1, 
The Cho Show
. She is also on the cast of Lifetime's 
Drop Dead Diva
, was a contestant on ABC's 
Dancing With the Stars
 and has even appeared on NBC's 
30 Rock
 as North Korean dictator Kim Jong-il!
Extras : Behind the scenes footage