proDAD announces Mercalli Easy video stabiliser
Life doesn't stand still for the camera - new app stabilises shaky videos shot on mobile phones, camcorders, even DSLR cameras
proDAD has announced Mercalli Easy, a Windows app letting consumers easily fix shaky videos posting to YouTube, Facebook, etc. While some smart phones, pocket camcorders and DSLR cameras have image stabilisation for video, it's not effective in all situations. The result is many videos captured by these devices are shaky and consumers simply put up with excessive shake in their videos because they think there is no alternative.  
Mercalli Easy puts an end to the common problem of shaky video by putting highly effective video stabilisation into a simple drag & drop app for Windows that can quickly stabilise the video and perform some basic editing. The video is then ready to be shared via popular social media & video sharing sites, copied to mobile devices, or turned into a DVD.  It is not always possible to shoot video on a tri-pod, and some of the best video comes from shooting from a moving car, while on a boat, etc.  Mercalli Easy lets the user focus on capturing a great shot, knowing it can be stabilised later.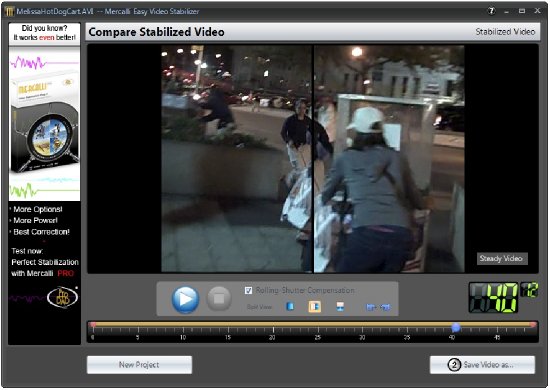 In addition to removing the shake from video, Mercalli Easy fixes another common, though less understood problem: Rolling-shutter distortion.  Video professionals know that rolling-shutter is a problem related to CMOS imaging sensors that are found in virtually every camera and camcorder today, and occurs almost anytime the camera is moved while shooting, or while shooting fast action.  Because of the way a CMOS sensor captures an image, scanning from the top of the sensor to the bottom, a moving camera or image will encounter skew or wobble distortion as the image has moved slightly during this scanning process.  Consumers only know the image looks wonky; though easily improved with Mercalli Easy. 
Key Features of Mercalli Easy

 
Quickly & easily removes shake from otherwise good video clips
Automatically corrects/improves rolling-shutter distortion, skew and wobble
Basic editing features - rotate video, click & drag trim editing for beginning and end of video clip
Based on the same great Mercalli video stabilisation technology relied on by video professionals world-wide
"Effective video stabilisation and image enhancement used to be only in the realm of the professional" said Andreas Huber, Managing Director of proDAD.  "We've seen the need for this technology at the consumer level also and created Mercalli Easy with this exact need in mind.  With Mercalli Easy, users can stabilise their videos, correct rolling shutter, and do basic editing based on the power of our professional technology, but without the complexity."
Pricing and Availability


Mercalli Easy is currently available for $14.95 on the Mercalli Easy website, 
www.mercallieasy.com
.  proDAD offers a full line of professional & semi-professional digital video effects, video titling/trailer animation, and professional video stabilisation products, offered as plug-ins for popular non-linear editing (NLE) applications.  Learn more at 
www.prodad.com