British horror thriller Kill List comes to DVD and Blu-ray this Christmas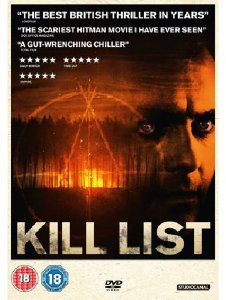 From the director of
DOWN TERRACE
,
KILL LIST
"

Outstanding"
*****
TOTAL FILM
"

A supreme cinematic definition of white-knuckle tension. A future classic.

"
****
LITTLE WHITE LIES
***** **** ****
TIME OUT INDEPENDENT THE GUARDIAN
Directed by Ben Wheatley
Starring Neil Maskell, Michael Smiley, MyAnna Buring and Emma Fryer
Out To Own On DVD, Double-Play & EST
December 26th, 2011
Eight months after a disastrous job in Kiev left him physically and mentally scarred, ex-soldier turned contract killer, Jay (NEIL MASKELL:
RISE OF THE FOOTSOLDIER
), is pressured by his partner, Gal (MICHAEL SMILEY:
DOWN TERRACE
), and wife Shel (MYANNA BURING:
THE DESCENT
), into taking a new assignment. As they descend into the dark and disturbing world of the contract, Jay beings to unravel once again - his fear and paranoia sending him deep into the heart of darkness.
Extras:
Commentary with Director Ben Wheatley and Writer Amy Jump / Commentary with Actors Neil Maskell, MyAnna Buring and Michael Smiley / Audio Description / Making Of Kill List / Interview with Ben Wheatley / Interview with Neil Maskell and MyAnna Buring / Interview with Claire Jones and Andrew Starke / Trailer
DVD Tech specs: Cert: 18 / Feature Running Time: 91 min approx / Region 2 Feature Aspect Ratio: 2.35:1 / Colour PAL / Audio: Dolby Digital 5.1 & Stereo 2.0 / English language / Cat No: OPTD2273 / RRP: £15.99
BLURAY Tech specs: Cert: 18 / Feature Running Time: 95 min approx / Region B / Audio codec: DTS HD Master / Video codec: AVC / Feature Aspect Ratio: 2.35:1 / Colour PAL / Audio: DTS HD master / English language / Cat No: OPTBD2273 / RRP: £19.99