Gianni Di Gregorio's Italian comedy Salt of Life comes to DVD in December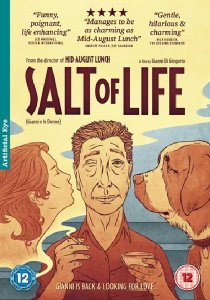 SALT OF LIFE
RELEASED ON DVD 5TH DECEMBER 2011
DIRECTED BY:
Gianni Di Gregorio (
Mid-August Lunch
)
"As charming as Mid-August Lunch; a tremendous achievement"
Andrew Pulver,
The Guardian
In this delightful follow up to the acclaimed 'Mid-August Lunch', the writer/director Gianni Di Gregorio also stars as a hen-pecked house husband, whose days are spent carrying out boring chores for his demanding wife, eccentric elderly mother, and vivacious neighbour. But romance isn't one of them until his old friend Alfonso decides it's time for Gianni to reacquaint himself with some of life's pleasures.
A hilarious series of misadventures follows in this warm and wittily observed comedy that is every bit as charming as its predecessor.
««««
EMPIRE
««««
LITTLE WHITE LIES
««««
TIME OUT
««««
MAIL ON SUNDAY
««««
FINACIAL TIMES
Extra Features:
· Interview with Director/Actor Gianni Di Gregorio
· Theatrical Trailer
Running Time
: 90mins approx
Language
: Italian with English subtitles
Certificate
: 12
Cat No
: ART556DVD
Barcode
: 5021866566306