Enjoy Your Media Anywhere on Your iPad, iPhone and Other Devices - Make the Most of Your Media with mediAvatar's Media Toolkit and Media Toolkit Ultimate!
BinaryDistribution has announced the release of mediAvatar Media Toolkit Ultimate and Media Toolkit. 
mediAvatar Media toolkit Ultimate
 for Windows and Mac OS X based computers is the quintessential toolkit for backing up* your favourite DVDs and Blu-rays protecting the original discs from scratches and general wear & tear. Convert and edit your DVDs, Blu-rays and all popular video files so you can enjoy them on any media device, anywhere anytime. You can even transfer* audio from DVD/Blu-ray/CD and convert it to MP3 and many other file formats.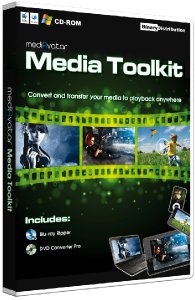 mediAvatar Media Toolkit Ultimate includes:
mediAvatar Blu-ray Ripper & mediAvatar DVD Converter Pro - 

Transfer* Blu-ray and DVD to all popular formats including HD and standard definition and enjoy on your favourite multimedia players such as iPad, iPhone, Tablet PCs, Android devices, PSP, Xbox, Wii etc.

mediAvatar Video Converter Pro & YouTube Video Converter -

 Convert from all popular video formats including directly from YouTube and transfer* to your preferred playback device.
 

mediAvatar Audio Converter Pro

 - Extract, Rip, edit and convert all popular audio formats to playback* on any multimedia device.
For more information please see 
http://www.downloadbuyer.com/showprod/1081
mediAvatar Media toolkit,
 includes mediAvatar 
mediAvatar Blu-ray Ripper & mediAvatar DVD Converter Pro
 making it the ideal solution for movie and video fans wanting to get the most from their media collection.
For more information please see 
http://www.downloadbuyer.com/showprod/1082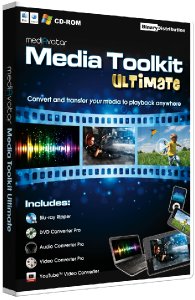 Ease of use
Both titles are designed to be very user friendly so even an absolute beginner will find the whole process quick, intuitive and hassle free.  Simply choose from a pre-set profile and click to go.  Advanced user need not worry though, as there are enough tweaks, settings and variables to keep even the most experienced format junkies happy!
Availability
mediAvatar Media Toolkit Ultimate and Media Toolkit are available at around £79.99 and £39.99 respectively, and are available for a limited period exclusively from 
DownloadBuyer.com
 as a download and physical boxed product are available from 
Amazon.co.uk
. 
Downloadbuyer.com managing director, Jon Silvera
had this to say "The much lauded recent government announcements on relaxing copyright law were certainly very welcomed.  The need to transfer media from one device to another has never been greater so it's refreshing to see the government supporting the consumer on this one.  Those of us old enough to remember will recall Sir Alan Sugar winning Amstrad the right to release the 'Tape-to-Tape' media centre that went on to become a defining moment in music copyright history.  Media Toolkit Ultimate from mediAvatar is the modern day software equivalent with the same underlying function - enjoy 
your
 media anytime anywhere!" 
*WARNING: COPYRIGHT NOTICE
 - Always check 
and
 obey all copyright notices. Generally, commercially available music and video is protected by copyright law. If you are not the copyright owner and you have not obtained permission to copy from the copyright owner, you may be violating copyright laws and other propriety rights that could result in claims for damages and or criminal prosecution.  Please be vigilant and follow the copyright notices issued with purchased material.