MAGIX PhotoStory on CD & DVD 10 Deluxe HD
Fantastic Multimedia Slideshows for TV, PC, Internet, Blu-ray and Mobile Devices!
MAGIX AG has announced the release of PhotoStory on CD & DVD 10 Deluxe HD. 
MAGIX PhotoStory on CD & DVD 10 Deluxe HD Special Edition is for top quality slideshows. Simply import photos and videos and transform text, music and effects into enthralling full HD slideshows. Burn your slideshows to DVD with a DVD menu, or watch on a TV with your DVD player. You can even export your creations to the internet or mobile devices for everyone to enjoy!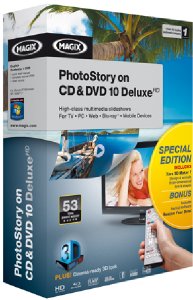 Correct or distort your favorite footage using the selective color change tool. Funny effects and animations make your slideshow an even more enjoyable experience. You can also import stereo photos and video clips, create 3D titles and present your slideshow with a cinema-ready 3D look on any common device. Experience your slideshows in a completely new dimension! 
For a limited time only this exclusive special edition will include an intuitive 3D design program -MAGIX 3D Maker 7. Effortlessly transform any text, shapes, graphics or photos into high-quality 3D objects and animations. A number of designs and templates in different styles, plus intuitive real-time editing and easy-to-understand tools will quickly help you to produce professional results. Can be used as a standalone program and plug-in in MAGIX PhotoStory on CD & DVD 10 Deluxe.
 
Features

Create slideshows and burn interactive CDs and DVDs all in one easy-to-use program
Complete PDF workflow, from import and creation to output of the final document
Complete 3D workflow guaranteeing a natural looking, three dimensional slideshow experience (including 3D glasses)
Personalized travel route animation with online maps.
Includes Magix Rescue Your Data AND 3D Maker 7!
Price & Availability

PhotoStory on CD & DVD 10 Deluxe HD is available now from Amazon and from PC World £69.99 SRP inc 
http://www.magix.com/uk/photostory-on-cd-dvd/