Kristin Scott Thomas stars in Sarah's Key out on Blu-ray and DVD this November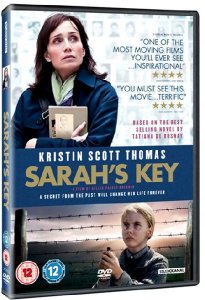 SARAH'S KEY
Based on the novel by Tatiana De Rosnay
Directed by
Gilles Paquet-Brenner
Starring Kristin Scott Thomas, Melusine Mayance and Neils Arestrup
Out To Own On DVD, BLURAY & EST
November 28th, 2011
Based on Tatiana de Rosnay's best-selling novel, SARAH'S KEY tells the story of Sarah (MELUSINE MAYANCE), a ten-year old girl taken with her parents by the French police as they go door-to-door arresting Jewish families in the middle of the night. We're in Paris, July 1942. Desperate to protect her younger brother, Sarah locks him in a bedroom cupboard - their secret hiding place - and promises to come back for him as soon as they are released.
Sixty seven years later: Sarah's story intertwines with that of Julia Jarmond (Oscar Nominee KRISTIN SCOTT THOMAS:
I'VE LOVED YOU SO LONG, THE ENGLISH PATIENT
), an American journalist investigating the roundup. What starts off as research for an article ends up as a journey towards self-discovery as she stumbles upon a terrible secret and discovers the heart breaking story of this Jewish family forced out of their home, a home that is now her own. As she starts to see, live, and breathe through Sarah, her world is turned upside down.
Kristin Scott Thomas received a Cesar Award nomination for her compelling performance in this role.
"Scott Thomas is tremendous"
TIME OUT
"A tense and compelling story"
EMPIRE
"It's impossible not to be gripped by SARAH'S KEY"
****
DAILY MAIL
Extras:
Making Of, Trailer
DVD Tech specs: Cert: 12 / Total running time: 99 mins / Region 2 / Feature Aspect Ratio: 2.35:1 / Colour PAL / Audio: Dolby Digital 5.1 & Stereo 2.0 / English language / Cat No: OPTD1852 / RRP: £17.99
BLURAY Tech specs: Cert: 12 / Total running time: 103 mins / Region B / Feature Aspect Ratio: 2.35:1 / Colour PAL / Video: BD50 / AVC / 24p / Feature Audio: DTS HD Master & Stereo PCM 2.0/ Audio Codec: DTS HD / English language / Cat No: OPTBD1852/ RRP: £22.99