Erotic 3D film Sex and Zen comes to DVD in January and includes specs!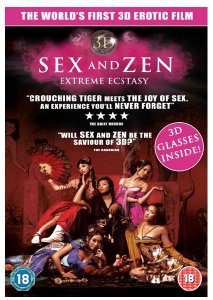 3D SEX & ZEN
EXTREME ECSTACY
DVD Release date: 2nd January 2012
Running Time: 98 Minutes DVD RRP: £19.99 Cert: 18
THE WORLD'S FIRST EROTIC FILM COMES TO DVD
Released in full 3D anaglyph version
INCLUDES
CYAN
&
RED
3D GLASSES!
3D SEX & ZEN: EXTREME ECSTASY
is the erotic costume epic that is breaking box office records all over the world!
An adaptation of the classic novel
The Carnal Prayer Mat
, the film follows a young
Ming Dynasty
scholar named Wei Yangsheng on an eye-opening journey of sexual discovery.
Directed by Christopher Sun and produced by Stephen Shiu, the executive producer of its predecessor film
Sex and Zen
, the film is "The World's First 3-D Erotic Film"
3D SEX & ZEN: EXTREME ECSTASY
has created Box Office records since its release in Australia, New Zealand & Hong Kong with sell-out opening week. In Australia, the film took over $1.1 million on just 6 screens.
In Hong Kong the film beat the opening days grosses of
'Avatar'
and
'Titanic'
with an opening day gross of $US351K. The film continues to play and has racked up a staggering $HK25 million at the Box Office.
EXTRA FEATURES
Includes The Making of 3D Sex & Zen: Extreme Ecstacy