Family comedy Zookeeper flocks to Blu-ray and DVD this November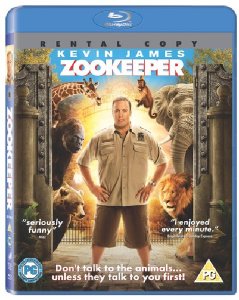 Prepare to visit a zoo like no other…
ZOOKEEPER
All-Star Cast Includes Kevin James, Rosario Dawson
and Leslie Bibb
And Features the Voice Talents of Cher, Nick Nolte, Adam Sandler and Sylvester Stallone
Blu-ray™ & Combo Pack Includes Playable PlayStation®3
Game Demo of Ratchet & Clank: All 4 One™
Heart-Warming Family Comedy Arrives on
Blu-ray™, DVD and Digital November 21
London, UK. (26/09/2011)
-
The animals at the Franklin Park Zoo break their time-honoured code of silence and reveal that they can talk in the family-friendly comedy
Zookeeper
, coming to Blu-ray™, DVD and Digital on November 21 from Sony Pictures Home Entertainment. Kevin James (
Grown Ups
,
Paul Blart: Mall Cop
) is loveable zookeeper Griffin Keyes, who finds true love with a lot of help from his talking animals.
Zookeeper
also stars Rosario Dawson (
Seven Pounds
) and Leslie Bibb (
Iron Man 2
).
The bonus features on the DVD include a blooper reel and multiple behind-the-scenes featurettes, including "Creating the Visual Effects," which shows how filmmakers created talking animals. The Blu-ray Disc™ contains everything included on the DVD, plus additional featurettes, including "The Cast of
Zookeeper
," a look at some of the star voices in the film, including Judd Apatow, Jim Breuer, Jon Favreau, Faison Love and Maya Rudolph, as well as
movie
IQ+sync.
Also included on the Blu-ray and is a playable PlayStation®3 game demo of the highly anticipated RATCHET & CLANK: ALL 4 ONE™, the latest installment in the family-friendly Ratchet & Clank® video game franchise, coming on October 21from Insomniac Games and Sony Computer Entertainment. With this game demo, Blu-ray fans around the world can sample levels from this exciting adventure.
The demo encompasses two different sprawling and vibrant high definition environments. This newest adventure introduces two-to-four player cooperative gameplay, allowing players to experience this compelling quest alone in single-player or in multi-player mode. For the first time in series history, you can play alone or with up to three other friends as Ratchet, Clank, Captain Qwark, or Dr. Nefarious!
Zookeeper
will be available for £19.99 RRP (BD) and £17.99 RRP (DVD).
Synopsis:
In
Zookeeper
, the animals at the Franklin Park Zoo love their kindhearted caretaker, Griffin Keyes (Kevin James). Finding himself more comfortable with a lion than a lady, Griffin decides the only way to get a girl in his life is to leave the zoo and find a more glamorous job. The animals, in a panic, decide to break their time-honoured code of silence and reveal their biggest secret: they can talk! To keep Griffin from leaving, they decide to teach him the rules of courtship - animal style.
Zookeeper
was directed by Frank Coraci. The screenplay was written by Nick Bakay, Rock Reuben, Kevin James, Jay Scherick and David Ronn with story by Jay Scherick & David Ronn. Barry Bernardi, Jeff Sussman, Charles Newirth, and Jennifer Eatz served as executive producers, with Todd Garner, Kevin James, Adam Sandler, Jack Giarraputo and Walt Becker producing.
DVD and Blu-ray Bonus Features Include:
"Laughing is Contagious" Blooper Reel
"Bernie The Gorilla" Featurette
"The Furry Co‑Stars" Featurette
Creating the Visual Effects Featurettes

"Making the Animals Talk"
"Riding An Ostrich"
"Animal Meeting"
Exclusive Blu-ray Bonus Features Include:
All the material above, plus:
Deleted Scenes
"Be The Bear" Featurette
"Behind The Stunts" Featurette
"The Cast of Zookeeper" Featurette
A playable game demo of Ratchet & Clank: All 4 One

movie

IQ+sync and BD-Live™ connect you to real‑time information on the cast, music, trivia and more while watching the movie!
Zookeeper
has a running time of 102 mins (BD) and 98 mins (DVD) and is rated PG.
Pricing and bonus features on Digital editions of
Zookeeper
may vary by service provider.