Reallusion arranges your thoughts, visually - the long-awaited photo editing tool for the iPad
iPad users finally have a photo editing application that materializes ideas and concepts into stylish images with the power of cutouts and stylized image compositing.
Reallusion have entered the iPad market with
Visualize
; a brand-new visual application that combines the power of free-hand cutouts, visual templates and layered compositing.
Visualize
is the on-the-go photo editing application that creates instant PNG cutouts by importing and editing images directly from the iPad camera or the internet. Cutouts may then be saved in the onboard gallery folders, to expand the current collection, or be retouched for further layering and compositing.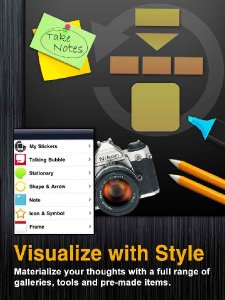 It is now so simple to customize and composite images thanks in part to a wide range of stationeries, symbols, icons and arrows, found in over 7 item categories. Users are free to manually rotate, scale and transform their images or they may use the embedded slider controls for pixel-accurate positioning. The same can be done for changing colour settings, and adjusting edge properties with special effects such as feathering, shadowing, or white edging.
Now users are able to import snapshots, and clippings, directly from online websites with the use of a rectangular cropping tool. Images can also be manually cutout with just a flick of the finger, thanks to the intuitive lasso tool which allows for immediate cropping of irregular shaped objects. Text can be added by simply typing and later adjusting the background and font settings. The free-hand drawing tool may also be used to add text with different brush stokes - each with its own brush styles and own color settings. Users may further customize their projects by dropping in background images with added spotlight, and colour effects to enhance the look of their projects.
Multiple images may later be composited into layers by sorting, linking and locking them to create artistic posters, visual reminders or on-the-go meeting minutes. When ready, users may export their projects to Facebook, Picasa, Dropbox or send them as a email attachment to colleagues.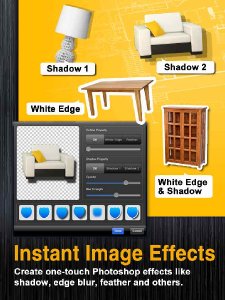 Visualize
literally opens the iPad to a vast cosmos of images that are freely available on the internet. Now everyone can import images, create cutouts and composite their ideas to create great looking presentations, stylish concepts and more; all in the palm of their hands.
To learn more about
Visualize
, simply search for it in your iTunes Stores to download the latest trial
http://itunes.apple.com/us/app/visualize-free/id456857776?ls=1&mt=8
 or visit Reallusion to get more information:
http://iphone.reallusion.com/