Bruce Willis stars in Setup out on DVD and Blu-ray this October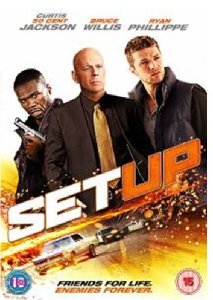 SETUP
On DVD, Blu-ray and Download to Own and Rent
17th October 2011
With Friends Like These…
Hollywood megastar
BRUCE WILLIS
(
The Expendables
) stars alongside CURTIS '50 CENT' JACKSON (
Dead Man Running)
and RYAN PHILLIPPE
(Cruel Intentions, Crash
) in this explosive story of high-risk robbery, friendship and betrayal.
SETUP
is coming to Blu-ray and DVD on October 17.
The heist of a lifetime turns deadly for a group of friends when one betrays another by taking off with the goods. Taking matters into his own hands, Sonny (JACKSON) seeks out retribution by teaming up with the most dangerous mob boss in town (WILLIS) to get back what he sees as rightfully his.
Also starring UFC legend Randy Couture (
The Expendables
) and James Remar (
Dexter),
and with Willis on top wise-cracking form,
SETUP
traces the breathtaking sequence of events leading to the point when friends-turned-foe face the consequences of their actions. When it comes to the crunch, Sonny is confronted with the biggest decision of his life...
SETUP
DVD & Blu-ray Details:
· RRP DVD/BD: £12.99 / £17.99
· Certificate 15
· Audio Dolby Digital 5.1 Surround / DTS-HD Master Audio Surround 5.1
· Aspect Ratio Anamorphic 2.40:1 / HD 2.40:1
· Subtitles English for the Hearing Impaired