The Panic In Needle Park Special Edition released 5th September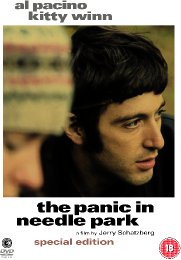 "A brilliantly performed, remarkably un-exploitative portrayal of the ravages of drug addiction."
Film 4
The Panic In Needle Park
"Raw, Gritty Stuff"
DVD Verdict    
The hard-hitting The Panic In Needle Park is the film that launched the career of a young Al Pacino and earned him a role in The Godfather.
Banned in the UK on its release for its stark portrayal of heroin addicts in New York City, it comes to DVD in its first UK widescreen release complete with some fantastic special features. The Panic In Needle Park Special Edition will be released on 5 September 2011 courtesy of Second Sight Films.
Jerry Schatzberg (Scarecrow) directs this grim drama following lost soul Helen (Kitty Winn - The Exorcist) as she slides into the world of drug dependency. Following an illegal botched abortion she has a chance meeting with small-time crook Bobby (Al Pacino). The pair fall hard for each other and soon Helen becomes embroiled in Bobby's world of heroin addiction in Manhattan's Needle Park.
Surrounded by prostitution, overdoses and the panic of a major drug bust, the couple weathers the storm of their bleak existence.
Kitty Winn won the best actress award at Cannes Film Festival in 1971 and the film was nominated for the Palme D'Or award.
Bonus Features: · 'Panic In The Streets Of New York' Featuring interviews with director Jerry Schatzberg and cinematographer Adam Holdender · 'Writing In Needle Park' An interview with writer Joan Didion
Title: The Panic In Needle Park Special Edition
Release Date: 5 September 2011
RRP: £15.99
Cert: 18
Cat. No.: 2NDVD3207
Running time: 105 mins
Language: English