Scifi thriller Robotropolis comes to DVD in September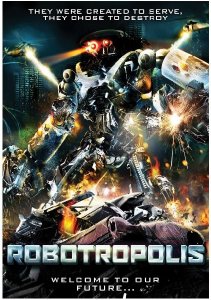 ROBOTROPOLIS
DVD release date: 5th September 2011
Running Time: 81mins Cert: 15 Price: £15.99
Designed as slaves and programmed for a life of servitude to humans, the robots have finally turned against their masters and are seeking bloody revenge..
A triumphant day turns into a fight for survival in the corporate-owned 'New Town' when a news crew are invited to broadcast the opening of the largest robot-only run facility and the dawning of a production revolution. Outwardly the robots "live" harmoniously with humans, providing service and security, but things take a frightening turn when the robots suddenly revolt.
Without warning, a young correspondent is caught inside a terrifying killing zone and must do the best she can to survive the rampaging machines with the world watching live.
With incredible visual effects in a nerve-tingling thriller that could become all-too real- Welcome to
ROBOTROPOLIS
Note there are no special features available on this disc