Historical martial arts feature Sword in the Moon comes to DVD this August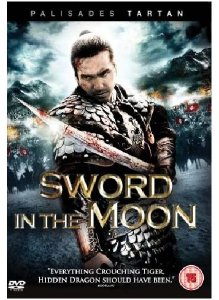 "SWORD IN THE MOON"

AVAILABLE ON DVD AUGUST 15th, 2011
"
WHAT CROUCHING TIGER, HIDDEN DRAGON SHOULD HAVE BEEN
"
-HOOPLA.NU
"contains richly-stylized visuals and blood-splattering levels of martial violence masterfully orchestrated."
-KUNG FU CINEMA
"A PEDAL TO THE MEDAL, MARTIAL ARTS ACTIONER"
-VARIETY
For Immediate Release - London 1st August 2011
-
From commercially successful Korean director Eui-seok Kim (
THE MARRIAGE LIFE
,
HOLIDAY IN SEOUL
) and starring, Jae-hyeon Jo (
BAD GUY, THE ISLE
) and Min-su Choi (
LIBERA ME, PHANTOM: THE SUBMARINE
), comes SWORD IN THE MOON, a historical martial arts saga featuring lush cinematography, spectacular fight choreography andmasterfully orchestrated battlefield swordplay from Hong Kong's prolific action choreographer Yuen Bin (
THROW DOWN
) and Korean martial arts legend Weon Jin (
MY WIFE IS A GANGSTER
). The film also gained recognition and praise at Cannes as an Official Selection in the Un Certain Regard section.
Referring to more than just its status as one of Korea's highest budget films of 2003, Justin Bowyer's film notes state "Almost every aspect of the film and its production is set on an epic scale…Ultimately Sword in the Moon stands up both thematically and cinematically with many of the milestone martial arts actioners: Ang Lee's Crouching Tiger, Hidden Dragon (which kick-started Western interest in the genre), Iron Monkey, House of Flying Daggers and Korea's own bench-mark epic Musa the Warrior."
Synopsis:
A series of high-ranking officials are being systematically eliminated by a sleek assassin and his female assistant, and arrogant master swordsman General Choi (Jo Jae-hyeon) is charged with putting an end to the carnage. During a previous time of political upheaval, the Clear Wind, Shining Moon martial arts school was caught in the middle and its members ruthlessly slaughtered. Top student Choi swore allegiance to the usurpers and was spared; now, his former friend, Yun (Choi Min-su) is exacting vengeance on behalf of the victims.
Starring: Jae-hyeon Jo (
BAD GUY, THE ISLE
), Min-su Choi (
LIBERA ME, PHANTOM: THE SUBMARINE
), Bo-kyeong Kim (
FRIEND, EPITAPH
), Jong-su Lee (3-IRON, ARANG)
Directed by: Eui-seok Kim (
THE MARRIAGE LIFE, HOLIDAY IN SEOUL
)
SWORD IN THE MOON [DVD]
(BBFC 15) will be available on DVD (RRP £15.99) from Palisades Tartan on 15th August 2011.
DVD Features
Product Code: TVD4124
Disc Type: DVD-9
Region: 2
Aspect Ratio: 2.35:1 anamorphic
Running time: 94 minutes approx.
Audio: Korean Dolby Digital 5.1
Subtitles: English
About Palisades Tartan:
Palisades Tartan has emerged as one of the premier distributors of independent and arthouse cinema in the US and UK and has been on the forefront of consumer trends. Straddling both continents, their film line-up boasts an impressive repertoire in the UK including the Ingmar Bergman library, Wong Kar Wai's 2046 and IN THE MOOD FOR LOVE. Apart from many favorites such as Paul Verhoeven's BLACK BOOK and Carlos Reygadas's SILENT LIGHT, the library is anchored by Park Chan-wook's Cannes jury prize winner, OLDBOY, the film that famously introduced the Western World to the Asia Extreme brand.
Tartan Films was originally founded in 1984 in the UK and is credited with bringing Asian Extreme film to the West as well as some of the most compelling art house films of the last quarter century. In 2008, Palisades Pictures acquired Tartan Films' film library assets. The new company Palisades Tartan has operations both nationally and internationally.
Palisades Tartan will continue to expand an already distinctive and provocative slate of films by focusing on quality film acquisitions, thus significantly increasing the size of their overall library in both territories. Palisades Pictures and its parent company Palisades Media Corp is a prestigious financier of print & advertising for the independent film market. Together with its affiliate, Palisades Media Asset Fund, Palisades has securitized and financed more than 550 films.
Find out more at:
Web:
www.palisadestartan.com
Facebook:
http://www.facebook.com/ PalisadesTartan/
Twitter:
http://twitter.com/#!/palisadestartan