African cinema film Viva Riva! comes to DVD this October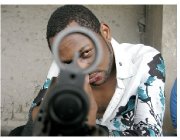 VIVA RIVA!
DVD Release date: 17th October 2011
Running Time: 94 Minutes
DVD RRP: £19.99 Cert: 15
"A gripping piece of film noir, brimming with sex, violence, bloodshed and corruption."
TWITCH FILM
"A bold crime action film that's vicious, sexy and throbbingly realistic"
HOLLYWOOD REPORTER
"A blast from start to finish"
VARIETY
For charismatic criminal, Riva, a sudden burst of stolen wealth ignites an exhilarating, hedonistic and perilous journey through one of the most intriguing cities in Africa - Kinshasa.
VIVA RIVA!
expertly combines fresh rhythm, violence and eroticism and ignites a new wave of African cinema, whilst demonstrating the intelligence, wit and technical accomplishment of European cinema.
In treating his audience to an imaginative portrait of vibrant rogues competing on the streets of Kinshasa, trailblazing Congolese writer/director Djo Tunda Wa Munga mixes a heady cocktail of rich colour, dynamism and local music which marks him as an emerging force in World Cinema.
Please note that this disc contains no extra features