What's on at Edinburgh 2011 - part two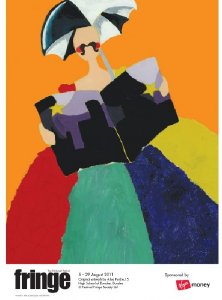 August means it's time for the Edinburgh Fringe Festival, so I thought I'd bring you a 2 part round up of the best comedy acts appearing this year. Here's part 2...
Lloyd Langford - The Cold Hard Facts of Life. More lilting comedy from the stooge from BBC One's Ask Rhod Gilbert, tackling topics from mice to cling film.
Mark Thomas - Extreme Rambling. And it is extreme, as Mark tells the story of his walk along the entire Israeli separation barrier. You'll know what to expect.
Mark Watson - 2012 preview. Mark previews next year's show a year early. His last show was another highlight of the year, and expect more Edinburgh mayhem. Probably won't be doing another 24 hour show this year though.
Matt Forde - politics and sport mixed up from Jon Richardson's former 6 Music co-host.
Michael Legge - Richard Herring's comedy nemesis talks about manners as well as appearing in another show with Robin Ince (more on that in a moment).
Mitch Benn - solo appearance from the Now Show regular who's leaving the Distractions at home this year. Look out for a re-working of "My Name Is.........Macbeth".
Norman Lovett - another free fringe highlight, Holly from Red Dwarf's style has never changed. Leisurely delivered laughs.
Omid Djalili - work in progress from the number one Iranian stand up.
Paul Merton's Impro Chums - yearly visit for this show that changes every day - because it's all improvised. Merton is an impro legend.
Paul Sinha - Looking at the Stars. Another GP, but one who is a pub quiz champion, and a BBC Radio regular.
The Noise Next Door - sketch comedy - their poster is unappealing but early reports suggest this is a great show.
Phill Jupitus - Stand Down - a welcome return for the excellent Jupitus, fresh from West End triumph and an irregular podcast with Phil Wilding, he's back to what he does best.
Phill Jupitus Quartet - Made Up. Another take on improv with Jupitus and friends Steve Steen and Andy smart, joined by guests such as veteran Steve Frost.
Please Retain for your Records - another sketch troupe, featuring Melanie Hudson (of Hudson and Pepperdine fame), Kate O'Sullivan and Alex Baldacci. Some sketches, some stand up and some other misc.
Pointless Anger, Righteous Ire 2 - Robin Ince and Michael Legge (both previously mentioned) join forces and get angry.
Rich Hall - another fringe veteran returns with 2 shows, 1 stand up, and 1 musical show "Hoedown" with supremely talented guests Ronnie Golden, Nick Pynn, Antonio Forccionne and Rob Childs. Musical brilliance with plenty of funny. And his stand up is as sharp as ever.
Richard Herring - just 2 shows this year from this hard working Fringe stalwart (his 20th Edinburgh). RHEFP (rhefp) is Richard Herring's Edinburgh Fringe Podcast (Andrew Collings is back at home this year) - expect a guest or two each day, competitions and stand up. And rudeness. "What Is Love Anyway" is a song by Howard Jones, and also the title of Herring's latest show, shaping up to be his best ever. A highlight of every fringe, but he probably won't win an award and will keep moaning (playfully) about it. And about wanting to be on the telly. Just let him be on the telly.
If you can't get there, listen to the podcast:-
http://www.comedy.co.uk/podcasts/richard_herring_edinburgh/
Or listen to his daily blog:-
http://feeds.soundcloud.com/users/5510726-herring1967/tracks
Rob Deering - 2 shows from the man and his guitar. One stand up with songs, the other is the musical game show where 4 stand up comedians battle it out.
Robin Ince - yes he was mentioned yesterday, but there's another 2 shows to talk about - "Struggle for Existence" and "Star Corpse Apple Child" (both first 2 weeks only).
Roisin Conaty - 2010's best newcomer brings her second solo show to the fringe. Should be even funnier than last year!
Ronnie Golden - First a Fender. More guitar based amusement from a Radio 4 stalwart who is also Barry Cryer's backing band. His first solo show, expect guitar brilliance and good humour.
Russell Kane - Manscaping. He has literally just finished touring last year's award winning show, but is back with an exploration of what masculinity means today. Hilarious.
Sarah Millican - Thoroughly Modern Millican. Nominated last year, her subsequent tour kept on selling out, kept on being extended and kept on selling out. Two Radio 4 series and loads of TV appearances should have told you why she is so popular. Brilliantly funny, this will sell out quickly, and the next tour is already doing the same.
Shappi Khorsandi - Me & My Brother, In Our Pants, Holding Hands. More personal material from the ever likeable Shappi.
Simon Munnery - Hats Off for the 101ers (and other material). Yes, it's a musical based on the R101 airship from the 1930s. Only Munnery would be so mad.
Steve Gribbin - Laugh at First Sight. Another Fringe veteran, formerly of Skint Video and oft found on the radio in the 1990s. A musical fest from the lovable scally, promises to be a greatest hits collection.
Stewart Lee - Flickwerk 2011 - Work in Progress. Like his old friend Richard Herring, Lee is back for another run, working up new material and ideas. Another constant fringe highlight, this one will sell out.
Tim Key - Masterslut. The 2009 winner returns with more poetry, laconic delivery and odd ideas.
Zoe Lyons - Clownbusting. More funny stories from Lyons, oft seen on Mock the Week.
Catie Wilkins - Chip off the Odd Block. As seen on Stand Up Hero (ITV4) Catie has a personal show about her family. She reminds me of Lucy Porter.
Fawlty Towers Dining Experience - a 2 hour show and a 3 course meal, has sold out for the last three years. Not to be confused with Fawlty Towers - The Dinner Show, which is involved in a legal row. Which leads nicely to...
Father Ted - The Dinner Show. Controversy reigns here, as this show may not go ahead "due to legal difficulties". It's supposed to be a comedy tribute (in the same style as the Fawlty Towers Dining Experience) but Graham Linehan and Arthur Matthews are not happy about it. So you might be able to see it, and you might not...
Watch out too for loads of your favourite BBC shows recording their customary Edinburgh specials for broadcast throughout the rest of 2011. And there are plenty of compilation shows where comedians turn up to perform snippets of their shows or 10 minutes of random stand up. There's also for Late'n'Live's usual blend of late night bear-pit mayhem.
Don't forget to go and check out the Free Fringe too - loads of acts performing for free. There'll be some stinkers but you'll also find some absolute gems (some of which I've mentioned already), as well as a few bigger names (Andrew Collins' Secret Dancing was one of last year's Free Fringe highlights).
And if you can't get to Edinburgh, look out for many of these shows touring the country from September/October until around next June...