Portuguese intimate epic Colossal Youth comes to DVD this August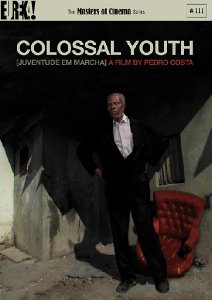 COLOSSAL YOUTH

(Masters of Cinema)

is to be released in the UK on DVD on 22 August 2011
SYNOPSIS:
Across the course of history, only a relative handful of filmmakers can be said to have developed and refined a language of cinematographic expression which, inimitable, belongs to its creator alone. Pedro Costa, of our time, exists within this select group, and
Colossal Youth
is one of his sublime achievements.
An intimate epic wherein present and past move as one,
Colossal Youth
chronicles Ventura, the towering Cape Verdean who has assumed the role of surrogate "father" to an untold number of characters around Lisbon and its now-razed neighbourhood of Fontaínhas. Through Ventura's ghost-like visitations to figures such as Vanda Duarte (the central personage of Costa's previous
In Vanda's Room
) and repeated recollections of his past life as a newly migrated manual labourer, Costa explores the nature, and necessity, of storytelling in the course of the human adventure.
As with
In Vanda's Room
,
Colossal Youth
lays bare the residence of documentary inside of fiction (and vice-versa) using a digital video aesthetic in which every single image resonates with an indescribably poetic and rarefied force. The Masters of Cinema Series is proud to present
Colossal Youth
in concert with Costa's complementary short works
Tarrafal
,
The Rabbit Hunters
, and
Our Man -
all for the first time in the UK.
Colossal Youth
is critically regarded as one of the greatest films of the last ten years (Film of the month, June 2008, Sight & Sound). The film caused a sensation at the 2006 Cannes Film Festival's Official Competition, and is regarded as the breakthrough film which made Pedro Costa an internationally celebrated figure .

Colossal Youth

is released on DVD on 22 August 2011.
SPECIAL 2-DISC DVD EDITION INCLUDING
:
• Director-approved transfer of the feature, presented in its original 25fps playback speed
• Newly translated optional English subtitles
•New and exclusive 17-minute video piece filmed at the Tate Modern, London, featuring Pedro Costa discussing
Colossal Youth
• Original trailer for the film
• Three shorter works by Pedro Costa which complement
Colossal Youth
:
Tarrafal
(2007, 17 minutes);
The Rabbit Hunters
(2007, 27 minutes); and the first home video release of Costa's most recent work,
Our Man
(2010, approx. 23 minutes)
•
Finding the Criminal
(2010, 120 minutes) — a new film by Craig Keller, featuring Pedro Costa in a 2008 conversation with Keller and Andy Rector on the history of cinema, cinema aesthetics, politics, music, and discovery
• A 56-page full-colour booklet containing writing on the film by French philosopher Jacques Rancière; an essay by the legendary Portuguese critic João Bénard da Costa; a facsimile reproduction of Ventura's letter from the film; and more
DETAILS:
Label:
Eureka Entertainment Ltd
Catalogue No:
EKA40336 (RETAIL ONLY)
Barcode:
5060000403367
RRP:
£20.42
Release Date:
22 August 2011
Certificate:
TBC
Run Time:
149 min.
Format:
1.33:1 OAR/ Colour
Genre:
World Cinema
Director:
Pedro COSTA
Year:
2006
Country:
Portugal
Language:
Portuguese
Subtitles:
English (Optional)