Provocative thriller Essential Killing comes to DVD and Blu-ray in July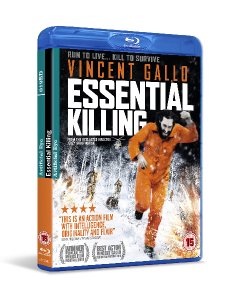 ESSENTIAL KILLING
RELEASED ON DVD & Blu-Ray
11 JULY 2011
Directed by:
Jerzy Skolimowski
Starring:
Vincent Gallo
~Winner~
Special Jury Prize
Best Actor
Venice Film Festival 2010
Vincent Gallo (
Tetro, Buffalo '66
) stars as a Middle-Eastern insurgent captured by US forces and transported to a secret detention centre somewhere in Europe. When the vehicle he is riding in crashes, he escapes into a snowy wilderness, a world way from the desert home he knew. Forced into extreme survival mode, and relentlessly pursued by an army that does not officially exist, he must confront the necessity to kill in order to survive. A provocative examination of the modes of modern warfare and the limits of human endurance, this riveting thriller from veteran filmmaker Jerzy Skolimowski (
Deep End
) is anchored by an extraordinary, award-winning performance from Gallo.
· Cert TBC
· Running Time 84 Mins Approx
DVD
· CAT NO ART532DVD
· Barcode 5021866532301
· RRP £15.99
Blu-Ray
· CAT NO ART019BD
· Barcode 501866019406
· RRP £19.99