Irreverent comedy Meet Monica Velour comes to DVD this July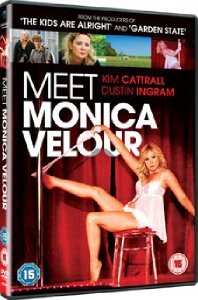 ANCHOR BAY FILMS
Present
A GILBERT FILMS PRODUCTION
MEET MONICA VELOUR
"Kim Cattrall gives a brilliant performance" Louise Chunn, Psychologies
"Napoleon Dynamite meets Amber Waves in this appealing road movie" Neil Smith, Total Film
"A May to December love story of sorts...the leads are excellent, as heartbreaking and bleakly funny as love itself." Phil Wilding - Empire
Starring: KIM CATTRALL,
DUSTIN INGRAM, SAM MCMURRAY, TONY COX, JEE YOUNG HAN, DANIAL YELSKY
WITH
KEITH DAVID
AND
BRIAN DENNEHY
Written and Directed by Keith Bearden
OFFICIAL SELECTION - EDINBURGH INTERNATIONAL FILM FESTIVAL
RELEASED ON DVD DATE 4 JULY 2011
PRODUCT DETAILS:
RRP: £15.99, Cert: 15, Running Time: 98 mins
16x9 / 2.0 Stereo, no subtitles.
DVD extras - US trailer
Geeky Tobe Hulbert's (newcomer Dustin Ingram) life sucks. A recent high-school graduate living in Washington with his grandfather (Brian Dennehy THE NEXT THREE DAYS), he works out of a vintage hot dog truck, and his only friend is his overweight 12-year-old neighbour. In the dog-days of summer, his only escape is obsessively watching videos of his fantasy girl, '80's porn star Monica Velour (Kim Cattrall SEX AND THE CITY).
In this irreverent comedy, awkward teenager Tobe sets off on a life-changing road trip, set against a '30s jazz soundtrack and Indiana's expansive cornfields, as he travels across the state to meet Monica Velour, the woman of his dreams at a rare live appearance hundreds of miles away. Expecting his fantasy, Tobe is instead confronted with a harsh reality: Monica is a 49-year-old mum who lives in a trailer park, and her life is nothing like he imagined it would be. The last thing Monica needs is another complication in her life, but Tobe is determined to do whatever it takes to get close to her. Kim Cattrall gives a career-defining performance in this offbeat and endearing love story that appeals to the dreamer—and the nerd—in all of us.