NCH Software Launches Audio Essentials
With Dual Compatibility, Audio Essentials is the Most Comprehensive Suite for Anyone Serious About Audio
NCH Software has announced the UK launch of Audio Essentials.
From simple audio recording, to intricate manipulations with stunning effects, the NCH Audio Suite is the most comprehensive suite available for audio professionals. The suite includes the award winning WavePad Sound Editor, MixPad multi-track mixer, RecordPad, Switch Audio Converter, Zulu DJ Software, plus additional tools for musicians and disc labeling software to put the finishing touches to any audio projects.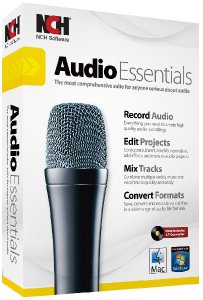 Audio Essentials includes the following:-
WavePad Sound Editor A fully featured sound editor, edit and add effects to music and other audio recordings.
MixPad Multi-Track Mixer Mix multiple audio recordings, including music and voice to create superior sounding audio tracks.
RecordPad Sound Recorder Record voice and other audio and save recordings as either wav or mp3.
Switch Audio File Converter Convert your audio to many different formats at super-fast speeds. Over 20 audio file formats supported.
Zulu DJ Software Mix your music live while applying effects. Always keep your songs on the beat with automatic beat detection.
Golden Records Vinyl Converter Digitize and convert vinyl records
Additional Benefits
Includes a royalty free music and sound effect library
TempoPerfect metronome software
PitchPerfect guitar tuner
Express Burn CD burner
Disketch label creation software
Suitable for Mac and PC
Price & Availability
NCH Audio Essentials is available at MSRP £39.99 inc from Amazon
About NCH Software
NCH Software offers more than 80 easy-to-use audio, video, business, and telephony/VoIP software solutions that improve productivity and usability for small businesses and consumers. Focused on specific needs, they produce software with all the bells and whistles of typical brands, but without the complexity. NCH Software provides users with what they need at a price they can afford. This approach generates more than four million unique visitors and nearly three million downloads per month from the company's website.