Anime Review Roundup
The Reappearance of Haruhi Suzumiya
A few weeks ago, The Disappearance of Haruhi Suzumiya feature film, previously scheduled for the end of July, mysteriously, and appropriately vanished from the schedules. It's shown up again, courtesy of Manga Entertainment's Twitter feed, and will now be with us sometime in November.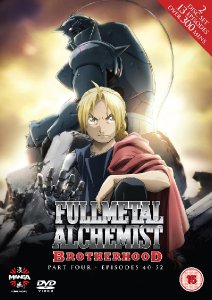 Two reviews for you last week, and both of them rather special. First up was
Fullmetal Alchemist Brotherhood: Part 4
. I was initially sceptical about this show, after the first Full Metal Alchemist series told its story so well. But it turns out that the first series diverged significantly from the manga in its second half, and the real story of Fullmetal Alchemist was yet to be told. That's what Brotherhood delivers, the manga storyline in its entirety, and with volume 4 we get to the endgame, where the grand conspiracies start to be revealed, the plotlines twist, turn, and intertwine like an intricate cat's cradle, and where each new revelation, each new discovery, leaves you at the edge of your seat, grinning in wonderment. You might guess that I like this volume. Click on the review to confirm that.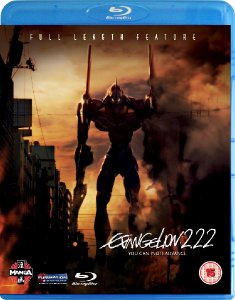 You'll be grinning in wonderment at the second release that I had to review last week, as Hideaki Anno's Rebuild of Evangelion reaches its second instalment.
Evangelion 2.22 You Can (Not) Advance
will offer the spectacle of an Eva running faster than the speed of sound. That's a sight to behold in Blu-ray high definition I can assure you. It's also the least of what this second film has to offer, full of action and stunning animation, thunderous audio. It's also got more of that teenage angst, isolation and disillusionment in the face of apocalyptic doom. It's also got Asuka Langley. It's got more Pen-Pen. And this time the story diverges from what you may have expected, having seen the television series. This time you get Mari Illustrious Makinami, a fourth Eva Pilot… Who likes to sniff things…
It's all Manga Entertainment this week. Fullmetal Alchemist Brotherhood: Part 4 is released on DVD today, while Evangelion 2.22 You Can (Not) Advance is released on DVD, Blu-ray, and DVD Blu-ray combo with special collector's booklet next Monday, 20th June.