New LS-20 delivers HD sound and vision
Available now, the new LS-20 Linear PCM digital recorder is the latest addition to Olympus' music range. It builds on the current LS-11 and LS-5 to offer recording studio sound quality with HD movie capture.
Many cameras now offer HD movie recording but all too often the sound is not always the best. For a truly lifelike recording you need studio quality sound to go with the film.
The LS-20 is essentially a mobile studio that records 24bit / 96kHz PCM - better than CD quality. Combine this with full HD movie at 1920 x1080P (30 fps) with image stabilizer and you can live life on a film set ready for 'action'.
Keep check on both your audio and visual recordings with dual LCD technology, dedicating individual screens for audio information and filming.
For ultimate creativity, play around with the movie effects which include rock, pop, sketch and pin hole for a unique professional feel recording.
The LS-20 is available from Amazon and retails at £299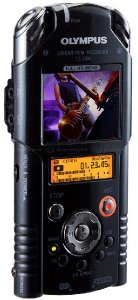 HD Sound with HD Movie
The audio 'sketch pad' just got better, offering musicians, journalists and directors even more opportunity to capture their latest epiphany or inspiration.
Unique in its design the LS-20 is slim with stylish good looks and practical functionality.
Shoot your movies from the top of the device to steady your style and capture new angles, flip the screen to shoot overhead and capture great visual and audio in one.
Dual LCD technology allows you to monitor your audio recording levels on one dedicated screen whilst you view your movie on another.
Ideal for gigs, rehearsals, pod casts, interviews, home movies, nature and more - the LS-20 shoots in HD quality and offers new movie effects including rock, pop, sketch and pin hole for that artistic flare.
Endless Memory
With a 2GB SD card in the box you can ensure you capture everything; adjust the shooting resolution and recording formats to further extend memory and with included rechargeable Lithium ion battery via the USB you can keep going.
To make maximum use of the space available, users can divide, partially erase and transfer audio files. They can also set practical index marks during recording and playback so they can access files in an instant for stereo playback or editing.
Share your creation with the world through the internet by easily uploading your movie files; The LS-20 supports the 640x480 (30fps/ mp3) format suitable for uploading video. Alternatively connect the recorder to your PC to use it as a webcam and share live action.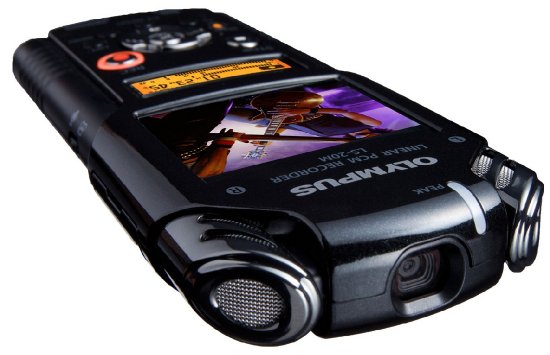 Capture Everything
With adjustable microphone sensitivity, manual/auto recording level, noise cancellation and high sensitivity you can define audio that may be a distance away. With 4x digital zoom and reverse angle recording and image stabilization you can get closer and clearer visuals.
To shoot overhead or in crowded environments simply turn the recorder upside down and the left and right channel of the built-in stereo microphones are automatically reversed allowing you to easily view your recording on the LCD screen.