Ricoh Introduces the PX Series
Ricoh have announced the release of the new PX compact digital camera.
The new design offers 5.0x, wide-angle (28 mm) and telephoto (140 mm) optical zoom in a water- and shock-resistant package that can safely be used for hassle-free photography in a wide variety of locations and situations.Designed for hassle-free operation, the new RICOH PX lets users take photographs anytime, anywhere with fast startup and settings that adapt to subjects for optimal results. Its high-resolution, 16-million-pixel CCD sensor and Smooth Imaging Engine IV image processing engine combine for high-resolution, high-quality photographs.The new, fully flat design give the new RICOH PX, ease-of-use and portability, results in a camera that is easy to carry, while the optional protective jacket appeals to users with a choice of colour schemes that can be matched to the camera body.
While it exhibits the traditional dedication to image quality that has been the base of all RICOH digital camera designs, the newly released RICOH PX is also a compact digital camera that promises fun, hassle-free photography. It is also dedicated to image quality that has been the foundation of all RICOH digital camera designs to date.
The Ricoh PX is available early July at SRP £179.99 inc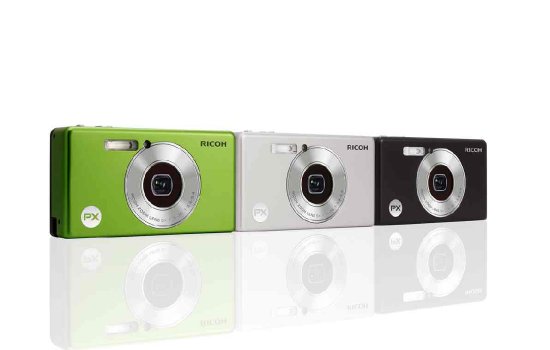 Main Features of the New RICOH PX Compact Digital Camera
1 
Designed for peace of mind and hassle-free use, anywhere, anytime; fully dust-, water-, and shock-resistant
• The RICOH PX has a JIS/IEC protection rating equivalent to IP68. It can be used underwater for 60 minutes at a depth of 3 meters. Dirt can be washed off, allowing users to safely take pictures anywhere without worrying about rain, splashes from the kitchen, or dirt or soil from the garden. Enjoy the peace of mind that comes with being able to use your camera anytime, anywhere, including for shots of water sports, hiking, and other outdoor scenes.
• Thanks to its impact-resistant design, the camera can withstand being dropped from heights of 1.5 meters.
• The camera features a 2.7-inch, 230k-dot high-contrast LCD monitor with a wide viewing angle. It also boasts an anti-fingerprint protection coating that protects from scratches, and an anti-reflective coating which ensures that the monitor can still be viewed under bright outdoor lighting.
2 
Never miss another shot—whip out the RICOH PX and snap a photo anytime, hassle-free
• Whether it's a spur-of-the-moment snapshot or a carefully framed picture, the RICOH PX can automatically optimize settings to suit the subject, allowing even users who are unfamiliar with the camera to take photos quickly and easily.
• A fast startup time of about 1.4 seconds ensures you'll never miss another shot.
• "Subject-tracking AF" is standard on all models for shots that are always in focus even if the subject is in motion.
• The fully-flat design eliminates projections to emphasize portability for a camera that can be slipped into a pocket and used almost anywhere. By placing the lens in the center of the camera body, RICOH has ensured that shots won't be blocked by stray fingers even when the camera is held in both hands.
• The intuitive controls include a lever-style flash dial that allows user to determine whether the flash is on or off, and a movie button that starts movie recording directly with a single press.
3 
A 16-million-pixel, high-resolution CCD sensor for high-resolution images
• The 16-million-pixel, high-resolution CCD sensor ensures high-quality results not only when pictures are enlarged, but also when they are cropped or resized for digital zoom.
• The Smooth Imaging Engine IV image processing engine produces noise-free images even in shots taken at high sensitivities under low light.
• Image-sensor-shift image stabilization reduces blur at high zoom ratios and in pictures taken at night or indoors under low light.
4 
28-140 mm, 5x optical zoom with super resolution (SR) zoom equivalent to 10x optical zoom
• The RICOH PX offers 5x optical zoom for focal lengths of 28 mm (wide) to 140 mm (telephoto).
• With super resolution technology, the camera supports SR zoom equivalent to a focal length of 280 mm with almost no drop in image quality. Telephoto photography at zoom ratios equivalent to up to 1,344 mm (280 mm x 4.8) are available with digital zoom.
5 
Premium shot modes enhance the photographic experience
• Settings can be optimized for even the most difficult subjects simply by choosing the scene with the premium button.
• A display with easy-to-understand explanations guides users to the scene they want.
• Premium shot modes and custom modes are available for up to 28 scenes (including custom modes).
• A wide selection of premium shot modes is available, including "Cooking" and "Sweets" for delicious looking shots of food, an "Auction" mode for shots of objects being sold at auction, "Beach" and "Snow" modes that utilize the camera's water resistance, "Party", "Hand-held night scene", and "Miniaturize", "Toy camera", and "Soft focus" filter effects.
• Photographers can select up to five of their favorite premium modes for easy recall.
6 
Playback options for easy viewing
• By using the camera's "Favourites" feature users can rate picture with the camera's choice of three rating levels.
• The "privacy" option can be used to hide selected pictures during playback.
• Use "calendar playback" to find pictures by date.
7 
A full range of convenient options to enhance the user experience
•The RICOH PX comes with a slip-proof protective jacket(available in five colors to match the camera body ) to protect it from shocks and scratches.
• The "Two-way" straps that function as both hand- or neck-straps are also available in five colours.
8 
Many other features add fun to your photos
• The RICOH PX supports X2-series Eye-Fi SD memory cards with a built-in wireless LAN feature that can be used to automatically upload photos to a computer or photo-sharing service.
•Users can shoot HD movies with a frame size of 1280 x 720 pixels. An HDMI cable (available separately) can be used to connect the camera to an HDTV for high-quality display of movies and photos.
•  The RICOH PX comes with rechargeable battery that uses a USB connection. The USB power adapter can be plugged into a household power outlet or the battery can be recharged when the camera is connected to a computer via the supplied USB cable.
Notes


All focal lengths in this press release have been converted to 35 mm format.• Impact resistance measured under RICOH in-house test conditions.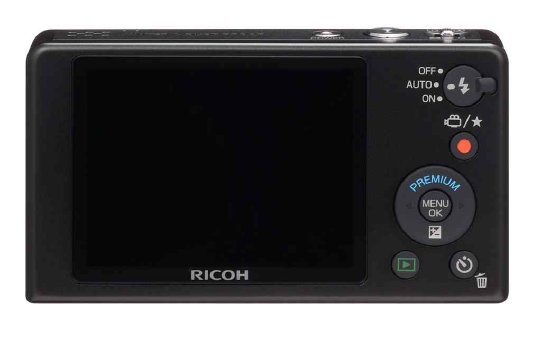 RICOH PX Main Specifications
No. of effective pixels (camera):
Approx. 16.00 million 

Image Sensor:
1/2.3˝ CCD (approx. 16.40 total million pixels) 

Lens:
Focal length: 5-25 mm (35 mm format equivalent: 28-140 mm)F-aperture: F3.9 (wide-angle) to F5.4 (telephoto)Shooting Distance: Approx. 3 cm - ∞ (wide-angle), 50 cm - ∞ (telephoto) or 3 cm - ∞ ("Loupe") (from the front of the lens)Lens Construction: 13 elements in 10 groups 

Zoom:
Optical: 5x (35 mm format equivalent: 28-140 mm)Super resolution (SR): 2x, for a combined zoom of 10x (35 mm format equivalent: 280 mm)Digital: 4.8x, for a combined zoom of 48x (35 mm format equivalent: 1344 mm) 
Auto Resize:
 *1
 7.2x, for a combined zoom of 36x (35 mm format equivalent: 1000 mm) 

Focus Modes:
Multi AF (contrast-detect AF), spot AF (contrast-detect AF), face-priority multi AF, subject tracking AF (with AF auxiliary light) 

Blur Reduction:
Image sensor shift image stabilization 

Shutter Speed: 
*2
Photographs: 8, 4, 2, and 1-1/2000 sMovies: 1/30-1/2000 s 

Continuous mode:
Frame rate:
*3
Approximately 1 fps 

Exposure Control:
Metering: Multi (256 segments)/center-weighted/spotMode: Program AEExposure Compensation: Manual exposure compensation (-2.0 to +2.0 EV in increments of 1/3 EV)Exposure Range (auto mode, center-weighted metering): 3.2-17.7EV(wide angle), 4.1-19.4EV(telephoto), (Exposure range for auto ISO calculated using values for ISO 100.) 

ISO sensitivity (Standard Output Sensitivity):
Auto, ISO 100, ISO 200, ISO 400, ISO 800, ISO 1600, ISO 3200  

Noise reduction:
AUTO 

White Balance:
Auto, multi-pattern auto, outdoors, cloudy, incandescent 1, incandescent 2, fluorescent, manual 

Flash:
Mode: Auto, on, off (red-eye reduction option available in camera menus)Range: Approx. 20 cm - 3.5 m (wide-angle) or 50 cm - 3.0 m (telephoto), measured using auto ISO with a maximum of ISO 1600, measured from the front of the lens) 

Picture display:
2.7˝ transmissive LCD monitor with approx. 230,000 dots 

Shooting Mode: 
*4
Normal, movie, premium shot (P, portrait, night portrait, hand-held night scene, party, cooking, sweets, loupe, landscape, beach, snow, sports, fireworks, auction, skew correction, pets, miniaturize, toy camera, high contrast B&W, soft focus, cross processing, black & white, sepia) 

Image size (pixels):
Photographs: 4608 x  3456, 4608 x 3072, 3456 x 3456, 4608 x 2592, 3648 x 2736, 2592 x 1944, 2304 x 1728, 1280 x 960, 640 x 480Movies: 1280 x 720
*5
, 640 x 480 

Storage media:
SD and SDHC memory cards (up to 32 GB), internal memory (approx. 40 MB); Eye-Fi cards (X2 series) supported 

Capacity 
*5
 (40 MB internal memory):
Photographs: 6 (4608 x 3456), 7 (4608 x 3072), 8 (3456 x 3456, 4608 x 2592), 10 (3648 x 2736), 15 (2592 x 1944), 19 (2304 x 1728), 43 (1280 x 960), 169 (640 x 480)Movies:
*6
 7 s (1280 x 720), 22 s (640 x 480) 

File Format:
Photographs: JPEG (Exif version 2.3) 
*6
Movies: AVI (Open DML Motion JPEG compliant)Compression: JPEG baseline compliant 

Other notable shooting options:
Continuous mode; self-timer with shutter release delay of approximately 10 or 2 seconds and group portrait auto release; framing grid 

Other notable playback options:
Multi-frame playback, favourites, privacy settings, resize, skew correction, image cropping, slide shows, DPOF print selection 

Interface:
USB 2.0 (High-Speed) mini-B connector, Mass Storage compatible 
*7
, AV output 1.0 Vp-p (75 Ω), HDMI micro output terminal (type D)  
Video Signal Format:
NTSC, PAL 

Power source:
One DB-100 rechargeable battery; AC-U1 USB power adapter 

Battery life: 
*8
Approximately 300 shots with DB-100 (
Off
 selected for 
Sleep Mode
) 
*9

Dimensions (W x H x D):
100 mm x 55 mm x  21.3 mm 

Weight:
Approx. 156 g (includes memory card and supplied battery)Approx. 136 g (camera only) 

Water and dust resistance:
Class 8 JIS/IEC water resistance, class 6 JIS/IEC dust resistance (IP68); can be used underwater to a depth of 3 m for up to 60 minutes at a time 

Operating temperature:
0 °C to 40 °C 
Notes
*1. VGA images only.
*2. Upper and lower limits vary according to shooting and flash mode.
*3. As measured by RICOH using a Panasonic PRO HIGH SPEED 8 GB SDHC Class 10 memory card. Frame rate and maximum number of frames vary with shooting conditions and with the type and condition of the storage device
.*4. The options available vary with image size.
*5. Individual movies may be up to 4 GB in size or 29 minutes in length.
*6. Compatible with the 
D
esign 
R
ule for Camera 
F
ile System (DCF, a JEITA standard) and 
D
igital 
P
rint 
O
rder 
F
ormat (DPOF). Full compatibility with other devices is not guaranteed.
*7. Mass Storage is supported under Windows XP, Windows Vista, Windows 7, and Mac OSX 10.1.2-10.6.6.
*8. Measured according to CIPA standard. For reference only; actual number of shots varies greatly according to how camera is used.
*9. Approximately 320 shots can be taken when
10 seconds
is selected for
Sleep Mode